40 Best Outdoor Toys For 1 Year Olds
Are you searching for the best outdoor toddler toys? Well, you're at the perfect place. In today's article, we'll be listing down 40 fun outdoor toys for toddlers that not only offer incredibly fun time, but also promote your baby's physical and mental growth!
Let your toddler enjoy these 40 outdoor baby toys in this summer season. Without further ado, let's begin!
40 Best Outdoor Toys for 1 Year Olds!
If you're looking for a way to entertain your infant while also improving their gross motor skills, invest in a few outdoor toys for toddlers.
Even for the youngest toddlers, playing outside can be a lot more fun than playing inside. It's not just about fun, anyway. Playing outside is really important for your child's early development, as it provides so many opportunities for exploration!
Outdoor play significantly enhances a child's fine and gross motor skills. In fact, many studies have shown that outdoor playtime promotes healthy habits and prevents children from getting stuck in an immobile lifestyle.
It makes them curious to learn more about the world we live in, cultivates social and emotional skills from the beginning, and promotes healthy brain development. Furthermore, playing outside can even bring forward positive behavioral changes in your child!
In the meantime, it also burns off huge amounts of energy, making your kid tired and sleepy. This allows you to go by your day, and finish your daily tasks without having to worry about your child all the time.
The below-mentioned 40 cool outdoor toys will not only keep your toddler engaged for long hours, but also offer several learning opportunities. Playing with these best summer toys for toddlers, your baby will gasp on new concepts, adventures, and words through their sensory experiences!
So if you're looking for the best outdoor toys for 1 year old, here are our top picks. These outdoor toddler toys are perfect for your baby to enjoy some fun playtime in the lap of nature:
Best Outdoor Toys
Let's begin our list of 40+ best outdoor toys with some back yard toys. The below-mentioned outdoor toys are really exciting for children!
1. Lydaz Bubble Lawn Mower
Does your baby enjoy watching you when you mow your garden? Then, get them their own bubble lawn mower!
Your kid would love to push their own lawn mower around. Moreover, it comes with a bubble machine attached to it! Imagine the happiness on your baby's face when they see bubbles flying out in the sky as they mow around in the backyard!
The Lydaz bubble lawn mower is one of the most amazing outdoor toys for 1 year old boy. It's true that it'd ask for some strength and coordination to roll it around, but it's plain fun when your child figures out how to play with it.
Why should you get it?
It features realistic sounds and a bubble maker.
The mower handle is flexible and easy to use.
Bright, colorful mower body attracts your baby to play around the garden.
Encourages your baby to walk in fresh air.
Reviews:
"My 16 month old granddaughter LOVES playing with her bubble mower. It is her favorite toy of all. She loves to carry it everywhere she goes. The weight, I think, is perfect for toddlers."
"Seriously, one of the best toy purchases we've made. If your kid loves bubbles, or if they love pushing things it's obviously a win. You really can't go wrong with this. Our kid has played with it nonstop since we bought it. Worth every penny."
Get it here on Amazon for $26.99!
2. Little Tikes Toddler Slide
If you're on the hunt for the best backyard toys for toddlers, go with this perfect beginner's slide! It's light-weight, colorful, and easy to maneuver. Plus, slides are children's favorite kind of toy!
Why should you get it?
It can be easily assembled; folds and unfolds in seconds
Kids can play with it both inside or outside the house.
100% safe and high quality. Push the handle down until you hear an audible click to ensure the
handles are secure.
Promotes balance, coordination, and fitness.
Reviews:
"Really keeps my kid entertained. Love that it breaks down easily to store when not in use!"
"My kid absolutely loves this slide. It was really easy to put together, it withstood the weather outside, and honestly, it's carpet/tile friendly when my kid is dying to play on it and asks to bring it inside. Bonus, it comes in a huge box and my kid had a ball playing with that too."
3. Step2 Naturally Playful Sandbox II with Bonus Sand Tools
Looking for some joyful sand play? This is one of the best outdoor toys for kids to enjoy sand play in the fresh sunlight.
Children will relish hours of imaginative fun in this Playful Sandbox. The best part is that it comes along with bonus tools that your kids can use to do some playful activities.
For instance, they can choose to build a castle, or a mountain. Maybe they can create a special sand birthday cake for an imaginary birthday party. There are simply unlimited possibilities of fun in this sandbox!
Why should you get it?
It's a spacious sandbox that features a lovely design and naturally blends with your backyard decor.
It comes with a sunshine lid to protect from weather and sand.
Cleaning up is effortless—put on the lid and go.
Reviews:
"No assembly. It comes right out of the box. It is lightweight. It holds sand and keeps rain out. We could not be more happy. It is a good size as well. Two or three little ones can easily fit in, but my kids usually kneel down beside it."
Get it here on Amazon for $109.99!
4. Strider 12 Sport Balance Bike
A strider bike is among the best toddler outdoor toys for 1 year olds as it allows young children to experience the thrill of riding before they're even out of diapers!
Your kid can sit comfortably on the padded seat and use their legs to move around with the strider bike. It is the best option to introduce your children to the freedom, power, and responsibility of riding.
Why should you get it?
Since it doesn't come with training wheels, your child can learn how to balance and ride a bike in the simplest way.
It's made with 12 Sport's durable steel and puncture-proof tires. So you don't have to worry about damage or maintenance.
It grows with your child; the handlebar and seat can be adjusted to accommodate ages 18 months to 5 years!
Reviews:
"It's perfect for training a small child as it has no pedals, therefore no training wheels are needed. It is a perfect size for children from 1 to 4 years of age. Easy to put together, light weight so your child won't be struggling. Over all a great buy."
Get it here on Amazon for $135.99!
5. JasonWell Splash Pad Sprinkler
When summer is coming and it's starting to get hot, your kid will love nothing more than this Sprinkler Splash Pad!
If you're looking for water toys for 1 year olds, this one is your best bet. It's an excellent toy for even the smallest toddlers to enjoy some outdoor water fun, and get used to water activities!
Why should you get it?
The kids can sit and splash water around in the inflatable pad.
Little kids will be thrilled to play in the sprinkle and spray.
It's big enough to host friends and family. Never allow your child to play alone in it, as water play can be dangerous for little kids without supervision.
Zero harmful chemicals.
Creative shark design that promotes kids to jump around and stretch up!
Reviews:
"Great little splash pad for the backyard, and alternative to a water table that provides the same type of water fun. My kids love using toy trucks and buckets inside so it's held up all summer to this type of play, as well as the occasional visit from our dog. Easy to drain and put away. I will buy it again for sure!"
Get it here on Amazon for $29.99!
6. Little Tikes T-Ball set
If you're looking for outdoor toys for one year old that promote active play, invest in this T-ball set. This amazing toy keeps your children moving and also helps them develop hand-eye coordination!
Little Tikes T-Ball set can be adjusted as per your kid's height, so it lasts longer and grows up with your toddler. It comes with five plastic balls (won't matter if you lose a few) and a bright-yellow bat. All of the items are oversized, making it easier to play with the T-Ball set.
The best part is storage—all accessories can be stored in the base only. Then, you can hang it up on the wall and pick whenever your toddler wants to swing some bats!
Reviews:
"Cannot say enough good things about this toy. Lightweight, easy to store. It comes with 5 plastic balls, a stand and plastic bat. Durable, always looking for toys that will last with my toddler. He loves this toy, and has been playing with it non-stop since we got it. Great toy for a 1-4 year old"
Get it here on Amazon for $38.07!
7. Little Tikes Easy Score Basketball Set
One of the best outdoor toys for 1 year old if you want to introduce your kid to all the abilities of basketball games and competitive play!
This basketball set makes sports easy and rewarding for growing toddlers. Moreover, you can adjust it to suit kids ranging from 18 months to five years of age.
Why should you get it?
The oversized rim ensures that it's easy to make basket goals, which promotes active play and enthusiasm.
It helps kids develop social, motor skills and coordination.
Offers fun activity time with toddlers!
Reviews:
"16 month old grandson puts the ball in the net and we yell Whoo hoo! He giggles and loves to play with it! This toy helped my grandson learn the skill of getting up all by himself and improved his skills of picking something up off the floor with gross motor skills! Love love love."
Get it here on Amazon for $76.86!
8. Kids Play tent, 5 in 1 Pop-up Play Tunnel
Looking for some good outdoor toys for 1-2 year olds? The Kids Play tent is an amazing play jungle for your toddler's birthday parties, outdoor picnics, and carnivals!
It features a 5-in-1 special design, consisting of two play tunnels, one triangular ball pit, one square baby tent, and a toddler ball pit. This outdoor play jungle is big enough to be enjoyed by 5+ kids, so all your toddlers and their friends can play together.
Why should you buy it?
It's a multifunctional children's playhouse that offers a lot of creative play activities.
Really easy to assemble—it will pop open in a second, and kids can customize it by their own imagination.
It's one of the best outdoor toys for toddlers of age 1, 2, 3, 4, 5, 6, and above. So children of all ages can play together in harmony.
Durable and sturdy material.
Reviews:
"The Play Tunnel is large enough, its quality is better than I expected, and it is relatively easy to assemble. My baby is less than one year old. At first, she was afraid to crawl in and play, but now she can crawl in and play by herself, I am very happy."
"It is an awesome present for a year old kid. They love it, and they are entertained for many hours."
Get it here on Amazon for $89.97!
9. Little Tikes Snug 'n Secure Blue Swing
Sitting comfortably and swinging around is a comforting, time-passing activity. A person of any age would love to enjoy some swinging time; undoubtedly, your toddler will love it as well.
Set this outdoor toy up on your doorway, or the backyard tree. You can even set it indoors, somewhere where there are hooks on the ceiling. And gaze at your cute toddler swinging around with an innocent face and adorable giggles! ''
Why should you get it?
It's safe n' secure mechanisms ensure the safety of your toddler.
Removable T-bar and shoulder straps.
It allows your child's brain development, as it rests in the lap of nature and fresh air.
Reviews:
"I love it! My toddler also loves it and swings in it for hours. It holds him securely in place and the latches on the 2 shoulder straps can only be opened by an adult, so I feel pretty confident that my kid's not going to be able to unbuckle himself."
Get it here on Amazon for $89.34!
10. Step2 Panda Climber
If you're searching for classic outside toys for 1 year old, this one holds a special place. The Step2 Panda Climber doesn't only make your backyard a fun place for kids, but it also encourages them to do some physical activity.
There's a passage to crawl through, ladder to climb and a slide to come drifting down to the ground. Moreover, it comes with safety railing on the back, so your kids are safe from falling back side when waiting to slide down.
This toy sufficiently tires your kid up, so they can sleep peacefully and let you finish your house chores.
Why should you get it?
It promotes creative climbing and crawling within the toy.
Works like a baby gym, but is very safe to enjoy.
It lasts for years and also stores easily.
Colorful, lovely design
Reviews:
"This is a nice sized climber for a toddler. Easy to put together and very sturdy. The ladder steps, as opposed to staircase steps, are a little challenging for the younger ones – they have to learn how to climb them. Overall, very pleased with the product and play value."
Get it here on Amazon for $508.92!
Fun outdoor toys
We've the most fun outdoor toys for your toddler in this list. So if you're looking for a way to keep your toddler engaged in a joyful activity, invest in these fun outdoor toys!
11. Moontoy Toy Cars (Set of three)
Car toys are the best kind of outdoor toys for one year olds! The Moontoy car set comes with three unique cars that are fun to play with, and look super cool as well.
Comes with three unique wild animals models—Bull, Leopard, and Crocodile!
Easy to play with pull-back and let go mechanism.
Gives children imagination space and infinite joy.
Get it here on Amazon for $27.99!
12. Wooden Shape Color Block Toys
If you wish to teach colors and shapes to your young toddler in a fun way, this Montessori educational learning toy is made for this sole purpose!
It's one of the best baby outdoor toys to help kids learn how to recognize colors and shapes! The toy helps children develop creativity, observation skills, hand-eye coordination, problem solving skills, and logical thinking.
Get it here on Amazon for $19.89!
13. M Sanmersen Piano Mat
Is your toddler a fan of music? Then, they'll love this musical mat which comes with eight different sounds, and is powered by touch play. Your baby can play from these sounds by simply using their hand and feet.
Comes with 8 different sounds—piano, violin, accordion, trumpet, vibraphone, oboe, guitar, and flute.
It is durable enough to withhold endless jumping.
Get it here on Amazon for $29.90!
14. Hahaland 5-in-1 Kids Piano Drum set
Another great musical toy in this list of best outdoor toys for 1 year olds. You should definitely get this one as music enhances your baby's education by helping them make connections with their thinking and feeling abilities!
The Hahaland piano drum set is for inspiring your baby's musical talent and unique interest. It largely helps kids explore their musical potential while playing with toys!
Get it here on Amazon for $49.99!
15. Step2 Dino Dig Sand & Water Table
Sand and water together offer the best kind of joyful experience for your 1-year-old toddler! This amazing toy is strong, durable, and packed with unlimited fun and learning.
The Step2 Dino Dig Sand & Water table consists of two side; one for water and another for sand. It also features an adorable dinosaur theme, while including a big palm tree and volcano.
You can engage your baby in storytelling while using this toy to make it even more interesting! Moreover, multiple kids can play together as this toy is great for social and interactive play.
Get it here on Amazon for $101.48!
16. Radio Flyer 4-in-1 Stroll N trike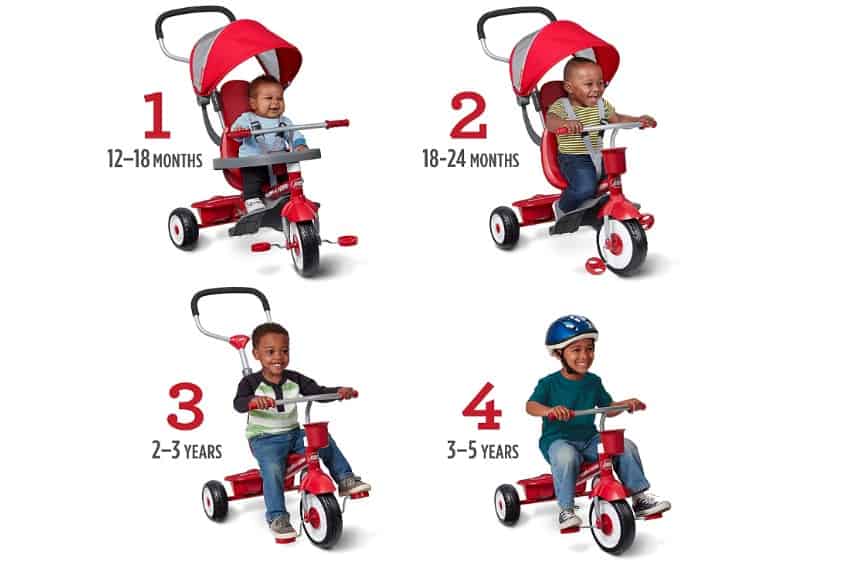 If you're looking for some fun outdoor toys that promote your child's body and brain development, this is your best bet.
It is a multifunctional bike, providing four different styles of riding—toddler trike (12 to 18 months), steering trike (18 to 24 months), learn to ride trike (2 to 3 years), and classic trike (4 to 5 years).
No matter how much your baby grows, this multifunctional trike will definitely grow older with it. Moreover, the safety features like headrest for neck support, shrouding glass holder plate and three-point tackle offer extra-safety insurance. So your baby can learn to ride a bike from a young age!
Get it here on Amazon for $209.99!
17. Little Tikes Hide and Seek Climber
If your infant is an active baby who loves to climb things or play hide & seek, they'll treasure this outdoor toy for toddlers!
It features a jagged section of climbing; something that'll introduce your young baby to rock climbing. On the front end of the toy, there is a safe, gentle slope for your kids to slide down to the ground.
There's space to hide on top of the toy, and peek through the tiny windows—perfect spot to hide in a game of hide & seek. There's no better way to present physical exercise into your toddler's life!
Get it here on Walmart for $93.00!
18. VTech Smart Shots Sports Center
If you're looking for fun outdoor toys, what's better than an interactive plaything that features a mini sports center?
This 2-in-1 sports center comes with a hoop to shoot baskets as well as a soccer net to score goals. Gift it to your little one and cheer them up as he scores baskets and goals. The best part is a LED scoreboard that counts your kid's shots and displays at the top.
Furthermore, the game center also plays encouraging animations, sounds, and phrases! With over 50+ interactive sounds, turn your backyard into a learning adventure for your toddler!
Get it here on Amazon for $79.95!
19. Little Tikes Lil' Rollin' Giraffe Ride on
Develop your little toddler's motor skills, balance, and promote their body growth with this Go and Grow Lil' Rollin' Giraffe ride-on bike!
This toy is a great addition to the list of best outdoor toys for 1 year olds. The friendly giraffe toy body makes kids happy to ride and the floor-to floor format makes it easy to scoot around. Your kids will love this adorable riding toy.
Get it here on Amazon for $48.19!
20. Kiddy Play Foldable Pop-up Polica Car Tent
The Kiddy Play police car tent is one of the best summer toys for 1 year old. Your kids can play with their toys inside, or use the tent for hide & seek. They can even fill it up with play balls and transform the tent into a ball pit.
You can fit up to 4 kids at once in this large play tent, and allow them to build social skills while playing different games together!
The tent is really easy to set up—you just have to remove it from its poly bag, twist it as per directions, and it will pop open. When it's time to put it away, simply fold it the same way you opened it.
Get it here on Amazon for $24.89!
Best Toddler outside toys
Well, this list of best outdoor toys for 1 year olds doesn't really end here. We have more options you can pick from, and give your toddler the perfect gift to enjoy. Here are some of the best toddler outside toys:
21. Magfire Climb & Crawl Inflatable Set
The Magfire climb & crawl set consists of inflatable climbing blocks that encourage your toddler's motor skills development and help them learn to climb, crawl, and slide.
This colorful outdoor toy is perfect for kids 9 months to 3 years of age, and attracts your baby to play longer using its foodie design. Different inflatable blocks resemble food items like birthday cake, cheesecake, egg roll cake, matcha cake, and a candy bar!
Your baby can move and arrange the blocks by themselves to build their own dessert kingdom. Trust me, they'll love this outside toddler toy.
Get it here on Amazon for $134.99!
22. Step2 Rain Showers Splash Pond Water Table
There's no kid in the world who doesn't enjoy water play. That said, if you're looking for the best summer toys for 1 year old, invest in this water table!
The Step2 water table is an excellent toy that would keep your toddler engaged for hours—which is perfect for the summer season. Moreover, it comes with fun accessories like a diving board, colorful buckets, a duck, etc., which makes this water play even more enjoyable.
Get it here on Amazon for $140.90!
23. Intex Dinosaur Inflatable Play Center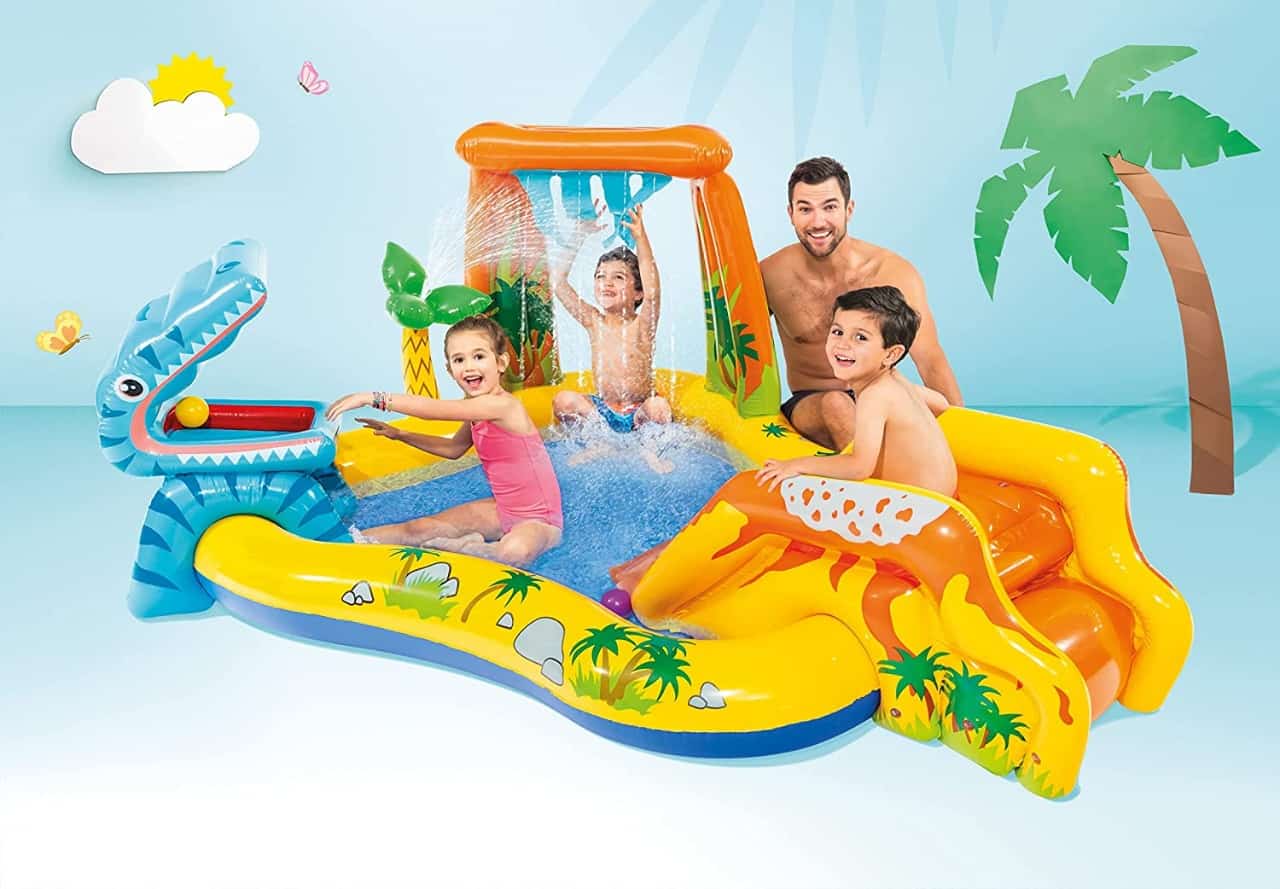 Transform your garden into a fun island adventure with the Intex Dinosaur Play Center! Your kids can play for hours on this inflatable island while the waterfall keeps them cool and hydrated.
Some highlighting features are:
Volcano water slide
Splashin' palm tree sprayer
Daring dino Fun Ballz game
Raging waterfall
Review: "My granddaughter loves this pool. It takes a while to inflate because each part is blown up separately. It has a lot of activities to keep her busy and is pretty sturdy as we have had several children at a time playing in it. A really good purchase." — Paulette
Get it here on Amazon for $39.68!
24. Automatic Bubble Machine
Who doesn't like bubbles flying around? And we're talking about one year olds here; they are absolutely crazy for bubbles!
If you blow a bubble for your toddler, there's no doubt they'll make you blow bubbles till your face becomes a bubble too. This is why it's better to invest in a bubble machine that is automatic and faster.
This dolphin shaped bubble machine is toddler-friendly, comes with a quiet motor, and can blow up to 500 bubbles per minute!
Get it here on Amazon for $51.31!
25. Galt Toys Nursery Trampoline
If you're searching for one year old outdoor toys that are good for your toddler's physical development, try this award-winning tortoise trampoline!
It's a great outdoor toy that will help your kids build confidence, coordination, and balance while having fun jumping on the nursery trampoline. The bright green color of the smiling tortoise trampoline attracts kids to play for hours, and it's safe to use both outdoors and indoors.
Review: "I purchased this for my niece's first birthday. The set up took longer than expected, but once built it was a hit.
We stood her on it and began to help her bounce. She was squealing with joy. She's now always on it. Whilst she can't bounce standing up without help she has worked out she can sit on it and bounce. 10/10 from her."
Get it here on Amazon for $156.44!
26. Backyard Spinning Turtle Sprinkler Toy with Wiggle Tubes
Looking for the best toddler outdoor toys in this summer season? Attach the Spinning Turtle Sprinkler to your backyard hose, turn on the water, and let your toddlers have splashing fun while watering the lawn at the same time!
All kids will love to receive cool games for outside activity; this turtle sprinkler will keep them all energetic and joyful the whole sunny day.
The best part about this toy is that it's fun to look at even before you connect it to the hose, and lots of fun when it begins sprouting out water through its wiggle tubes.
Get it here on Amazon for $23.97!
27. Little Baby Bum Wheels on the Bus
If you're looking for an action-packed activity climber for your toddler, the little Baby Bum Wheels on the Bus is the right choice!
It comes with loads of pretend play, so your kids can climb inside and take Buster the bus for a ride, while playing vehicle sounds using the musical dashboard. Along with the lovely bus, this toy comes with a built0in slide with a gentle slope and safe design.
If you're looking for outdoor toys for babies, this is the perfect for some imaginative play among the toddlers.
Get it here on Amazon for $209.90!
28. Little Tikes Rocking Horse
Does your child ask you to become a horse and take them on an adventure, while they sit on your back and ride you happily?
Well, you no longer have to become the horse for them. Get this Little Tikes Rocking Horse for your toddler to go on fun adventures while riding the horse. You don't have to worry about your baby falling down as the horse's seat is designed to keep kids safe!
Review: "The item is as described. It has no harsh piece of plastic coming out and it's easy to clean. The colors and details are also very pretty. It does go back and forth smoothly. My kids love it!"
Get it here on Amazon for $126.97!
29. Little Tikes Push and Ride Racer
A rider toy and walker in one! Toddlers can ride this cute car by themselves, or use the push bar to walk around with this push toy.
In any case, it's one of the most fun outdoor toys for toddlers. The racer car has a seat on the back, which is perfect for your kid to bring along a favorite toy or friend. Moreover, you don't have to worry about their safety. High back and tough handlers keep your young racers steady and safe.
Get it here on Amazon for $53.41!
30. Rainbow Baby Splash Pool with Canopy
Not much feels refreshing than cold water on your skin on a hot day. If you're looking for summer outdoor toys, this water play pool is an amazing choice!
The Rainbow Baby splash pool comes in a unique design with attached shade and sprinkler! The shade protects your toddler's sensitive skin from harsh UV rays and the sprinkler keeps them playing in the pool for hours.
It's easy to set up, made using non-toxic materials, and comes along with a first-aid repair patch for accidental puncture. Best choice for parents looking for 1 year old outdoor toys!
Get it here on Amazon for $49.99!
Busy toddler outdoor toys
If you're a busy parent, it can become hectic to take care of a toddler 24/7. Not only is it tough, but your divided attention is also unhealthy for your baby's steady growth.
This is why, occupying your kid's time with some busy toddler outdoor toys will keep him physically active. Here are some outdoor toys for 1 years old to keep it busy:
31. Foam Ball set—Perfect 1 year old toy to enjoy outside with friends. This foam ball set comes with a variety of balls including soccer ball, basketball, football, baseball, and soft ball.
Get it here on Amazon for $27.49!
32. Colorful Kids Bowling Set—This set of soft foam pins and bowling balls easily makes the list of top outdoor toddler toys. Your playful child would love to roll down balls and strike the pins away.
Get it here on Amazon for $28.99!
33. John Deere Sandbox Vehicle Set—This amazing toy offers an attractive dump truck and a tractor that encourage toddlers for imaginative play. The best feature is its rolling action; free rolling wheels allow the truck and tractor ride over several different surfaces easily!
Get it here on Amazon for $10.99!
34. Unicorn Bouncy Horse—Looking for fun outdoor toys for toddlers? This cute inflatable unicorn will keep your kid having fun for long hours. Beautifully made with eye-catching features, it's a spectacular gift for your adorable baby!
Get it here on Amazon for $34.99!
35. Wheelbarrow Wagon—One of the simplest outdoor toys for toddlers! Your kid will enjoy strolling the wagon around, supplying items here and there, or taking its toys for a ride. They might even wish to collect things from your backyard, and take them home for exploration.
Get it here on Amazon for $35.68!
36. Balance Beam—If you are looking for outdoor toys that help toddlers develop balance, coordination and perseverance, invest in a balance beam. At 18 months old, your baby can give it a try and improve their walking while holding your hands.
Get it here on Amazon for $89.99!
37. Cottage Tent with Star Light—Perfect outdoor toy for toddlers to do picnic play outside. It looks gorgeous, and offers a safe and comforting environment for your baby to enjoy some outside time, fresh air, and nature.
Get it here on Amazon for $75.99!
38. Step2 Sun & Shade Umbrella Kids Picnic Table—This toddler-sized picnic table is perfect for kids to have snacks, drinks, parties, and picnics outside. You can also use it to complete homework, arts & crafts projects, or simply studying in the lap of nature!
Get it here on Amazon for $84.99!
39. Fisher-Price Power Wheels Thomas vehicle—There's no outdoor toy better than a train to sit and ride in circles! This battery-powered ride-on toy train is perfect to keep your toddler amused for hours.
Get it here on Amazon for $210.69!
40. Sand Ice Cream Play set—This ice cream playset offers an interesting opportunity for your toddlers to do some imaginary, pretend play. Your kid will enjoy pretending to work in an ice-cream shop, scooping and assembling ice cream cones and cups.
Get it here on Amazon for $16.99!
FAQs—Outdoor Toys for 1 year olds
When you're looking for outdoor toys for infants, it's only natural to have several questions in mind.
Will it be safe for my infant to play with toys?
How long should a 1 year old play outside?
What are some benefits of outdoor toys for 1 year old?
Which type of outdoor toddler toys are best for your baby?
What to look for when buying outdoor toys 1 year old?
Don't worry, we won't let these questions bug you anymore. Here are some FAQs on best outdoor toys for 1 year olds:
How to pick the best outdoor toys for 1 year olds?
To get the best outdoor toys for 1 year olds, use the above mentioned recommendations. We have found and secured these amazing outdoor toys just so you don't have to wander around for them!
These outdoor toys are thoroughly checked and listed in this list because they offer crazy fun, are safe for your toddler, and help develop several motor skills in your baby. Moreover, they contribute to the development of your kid's physical and emotional health!
So don't ask around or keep searching for good outdoor toys for toddlers because here you are getting the best ones out there!
Will it be safe for my infant to play with toys?
All outdoor toys for toddlers listed here are specifically made for children aged 1 year and up. So you don't need to worry about your child's safety.
These outdoor toys are extremely safe, and keep your baby out of harm while offering him all the fun in the world. Just stroll through the list, pick the one that attracts you the most, and order it today.
Moreover, thes outdoor toddler toys are not very expensive. You can add more than one toy in your cart and surprise your young one today!
How long should a 1 year old play outside?
Toddlers need three hours of physical activity daily, so having them play outside three times a day would be perfect!
If your toddler is under the age of five, let them play outdoors two to three times every day. And each time, they should only be out for 30-40 minutes. This totals daily gaming time to be 90 to 120 minutes.
This is the recommended necessary, minimum outdoor play time for your toddler. You should know that outdoor play fulfills your baby's need of exploring their environment while being physically active.
Sun exposure is equally important for your baby as Vitamin D helps in building a strong immune system.
What are some benefits of outdoor toys for 1 year old?
There are several benefits of outdoor toys for toddlers. Playing outside with these toys can teach your kids many crucial things, while also strengthening the parent-child bond.
Here is a comprehensive list of all the ways outdoor toys help your child in healthy growth:
1. Logical Concepts
These outdoor toys for toddlers introduce your baby to the cognitive world by teaching them things that relate to reality. Here are skills your kid may gather using fun outdoor toys:
Decision making
Problem solving
Perseverance/persistence
Cause and effect logics
Curiosity
2. Gross Motor skills
When your kid starts playing with outdoor toys, they indirectly begin developing gross motor skills:
Sitting steady
Walking
Crawling
Running
Jumping
Climbing
Sliding
Balance
Hand-eye coordination
These are some basic motor skills your toddler begins to develop when playing with the best outdoor toys! Playing with outdoor toys also improves a child's body muscles and core strength.
Furthermore, the more a child participates in these gross motor movements, the steadier their skills will become!
3. Social skills
Other than developing their body, outdoor toys also help develop a child's emotional health. It teaches certain social skills that kids may only learn through outdoor toys at this young age:
Sharing and caring
Communicating with friends
Independency
These are some of the most important benefits that outdoor baby toys offer! Invest in these toys and help your young toddler develop crucial life skills from an early age!
What to look for when buying outdoor toys 1 year old?
The right baby outdoor toys can encourage your toddlers to engage in imaginative play, and help them develop many crucial skills. While expensive toys are great picks, you don't really need to drop your dollars in search for good outdoor toys for toddlers!
Here are the only things you need to keep in mind when purchasing an outdoor toy for your 1 year old:
a) Age recommendations: As per the American Academy of Pediatrics (AAP), it is really important to check the manufacturer recommended age on any toy you think of buying. This ensures that your little one is safe while playing with outdoor toddler toys!
b) Choking Hazard: Try to avoid toys that come with a choking hazard warning. This is because these outdoor toys for 1 year olds come with tiny or removable parts that your baby may gulp down their throat.
c) Durability: Always ensure checking build quality of toys that you order for your toddler. Almost all outdoor toys we have mentioned above are highly durable; some may even last for years to come!
The best way to check durability is going through the review section. Almost anyone will comment if a product is made up of bad quality materials.
d) Weight and capacity limits: Toys that engage your toddlers to sit, climb, crawl, jump, ride and slide usually come with weight and capacity limits. Do not ignore these limits if you wish to ensure your little dumplings don't hurt themselves!
e) Personal preference: Always pick toys that align with your child's interest, as if they do not care to play with it, your purchase would have no meaning.
Make sure you look for all these factors when choosing the best outdoor toys for your 1 year old! That said, the 40 outdoor toys for toddlers mentioned above are the best picks for you.
Invest in these outdoor toys for 1 year olds if you wish to improve their mental and physical health!