Ultimate Wedding Planning Checklist For Everything You Need To Know
Weddings are special events that need a high level of organization, that is why wedding planning tips come in handy. These planning tips are however nothing without a good wedding planning checklist. The role of the wedding planning checklist in weddings cannot be overemphasized, they are the life wire of the occasion.
A wedding planning checklist is considered alongside with wedding day timeline to make dream weddings a reality. There are different types of wedding planning checklist that can be used to plan for a wedding, they are wedding day checklist, complete wedding checklist, simple wedding checklist, DIY wedding checklist, short notice wedding planning checklist, wedding reception checklist, and detailed wedding checklist.
These different types of wedding planning checklist, wedding day timeline, and wedding planning tips will now be discussed in detail.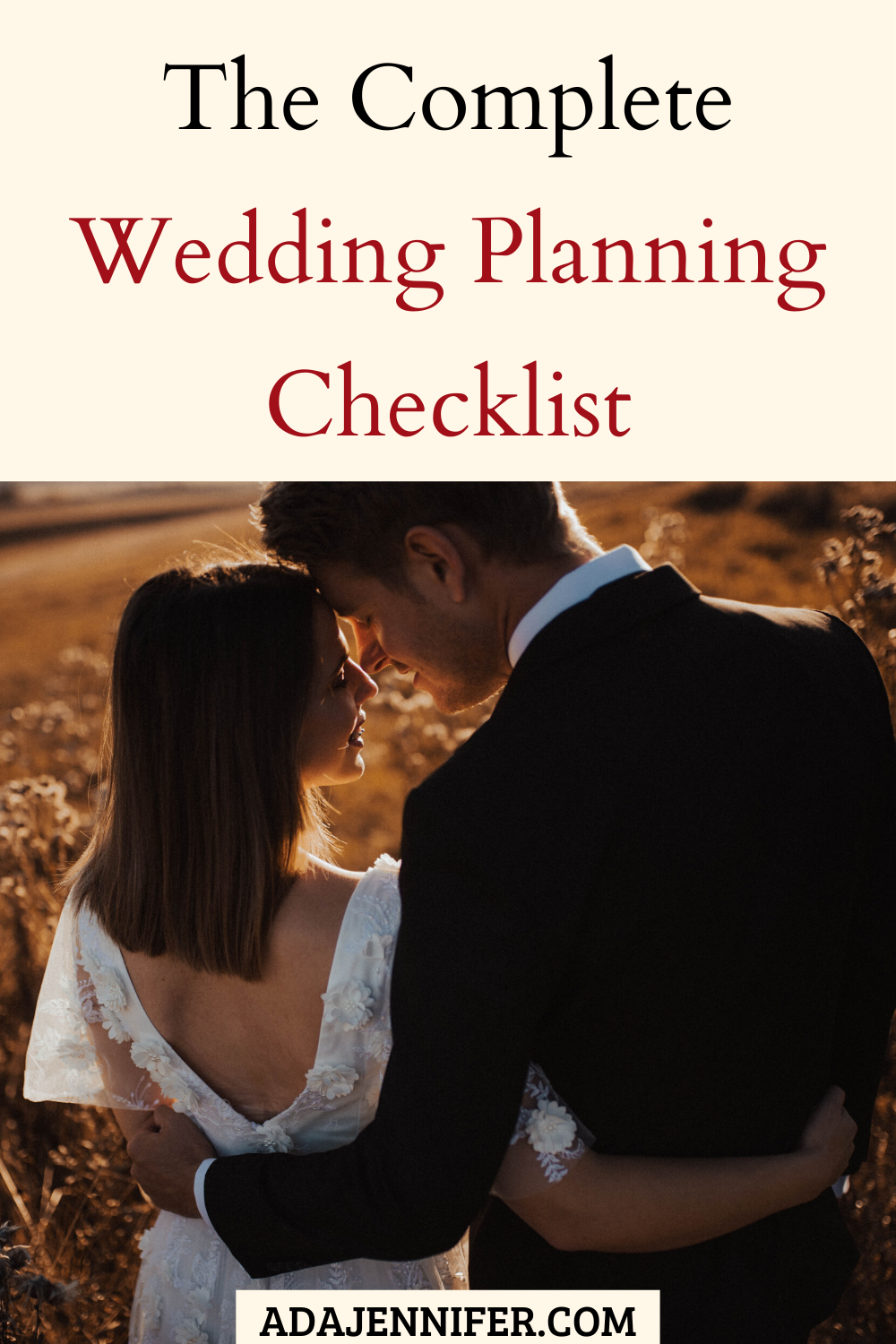 Wedding Planning Tips
To plan a wedding effectively, certain tips have to be used. They are:
1.  Give Attention To Details
The wedding planner must be one who can listen well to the couple to know what they want and then go on to turn these wonderful ideas into a reality.
2.  Know-How To Manage Time
To be an effective wedding planner, you have to know how to manage time before the wedding and during the wedding.
3.  Know-How To Manage Resources
For any wedding to be successful, the resources invested in it have to be judiciously used. That is why it is important that wedding planners have a budget they are working with, and they follow this budget to the end.
4.  Be Able To Plan Ahead
Being able to plan ahead allows wedding planners to be better prepared for a wedding. Planning ahead includes deciding on the kind of wedding you want, the things needed to make that wedding a reality and scouting for all things necessary for the actualization of the wedding.
Wedding Day Timeline
One of the secrets to having a perfect wedding is being able to plan ahead and envisage how you want your dream day to be. You can do this by putting time into all the programs you have lined up for your wedding. The following is a sample timeline based on a wedding starting at 9 a.m.
Bear in mind that in this sample timeline, the ceremony and reception are being held at the same location, meaning the attendees won't have to travel to a separate venue for the reception party. If you want to have your reception party at a separate site from your wedding, make sure you include the time it will take guests to reach the reception venue.
You can use the wedding timeline below as a guide to creating your own wedding day timeline.
7a.m – Arrival of photographer
It is best for the photographer to arrive 20-30 minutes before the bride is ready, so he can get good shots of the rings, wedding dress, bouquet, shoes, etc.
7:15a.m- Bride's hair and makeup are complete and her bride's maids are dressed
During this time, the photographer will take good shots of the bride while she is getting dressed with her bride's maids in the background.
7:30- Bride gets dressed
Now is a perfect time to have the photographer capture intimate moments of the bride and her mom like when the bride's mom is helping her out with her veil or giving her a kiss on the check.
7:45a.m- Bridal Portraits
The photographer uses this time to capture good shots of the bride at beautiful pre-scouted locations around the wedding venue.
8:10- 8:30a.m- Photos of The bride and her bridesmaids are taken
9 a.m- Start time on the wedding invitation
It is advisable to start your wedding ceremony about 15 minutes later than the invitation time, this will give the guests ample time to settle in if they are running late and it allows room for more guests at your wedding. Wonderful songs can be played during this time to indicate that the ceremony is about to begin.
9:15a.m- Actual start time
9:15a.m – 9:45a.m- Wedding Ceremony
This time varies and is typically dependent on whether your ceremony is a religious one or not. Religious ceremonies tend to last for about an hour while nonreligious ceremonies usually last for about 20minutes.
9:45a.m – 10:45 a.m- Cocktail Hour
Invite your guests to cocktail hour while you snap photos as husband and wife.
11a.m- Guests invited to Wine and Dine
11:30a.m- Couple's Grand Entrance and first dance
11:35a.m – 12:45p.m- Welcome toasts from hosts
12:45p.m – 1:15p.m- Lunch
1:15p.m – 1:25 pm- Bridal party toasts
1:25p.m – 1:35p.m- Parents dance
1:35p.m – 1:50p.m- Cake cutting and bouquet toss
1:50p.m- Open the dance floor
Dance! Dance! Dance!
3 p.m- Grand exit of the newly married couple
Pre-inform your DJ or band about the song you want for your exit out of the reception venue, so this song can be used to usher you into your happily ever after.
Wedding Day Checklist(Complete Wedding Checklist or Detailed Wedding Checklist)
Planning a wedding can seem really tasking, but with proper planning put in place, things can take shape really well. To get the wedding you have always desired, certain things have to be put in place, to make the occasion worthwhile. Here is a list of things you will require for your wedding.
1.  Budget
To successfully plan for a wedding, a detailed budget is a must, otherwise, resources will be wasted and important details omitted.
2.  Guestlist
Couples should decide on the number of people they want to grace their occasion while doing this, it is important they check their budget to see if it can accommodate this number.
3.  Wedding Planner
Couples getting ready for marriage, have a lot on their plate and just can't do all the wedding planning work, that is why they need a wedding planner to help them manage their event, so they can be more relaxed and focused on other important details.
4.  Venue
A venue is needed for the wedding ceremony and reception. The soon- to- be bride and groom are in the best position to decide the venue or venues they want for their occasion.
5.  Caterer
A caterer is needed to make mouth-watery dishes for you, your partner, and your wedding guests.
6.  Wedding Colors
Decide the colors you want in your wedding.
7.  Decorator
Hire your wedding decorator and inform him or her of your choice of colors, so these colors can be used when your wedding venue is being decorated.
8.  Photographer
A photographer is needed to snap your wedding pictures.
9.  DJ or Band
A good DJ or band is needed to supply you with your choice of music on your wedding day.
10.  Videographer
Want to have lasting memories of your wedding, this is who makes it happen. A videographer helps to create wonderful videos of your wedding day, so you can always remember it.
11.  Wedding dress and shoe
Wedding dresses are a must for every bride and should be shopped for before the wedding day.
12.  Tuxedos
Just as the wedding dress is important to females, men need to shop for their tuxedos before their big day.
13.  Hotel rooms
Hotel rooms will be necessary if you are expecting quite a number of people at your wedding.
14.  Engagement photos
These photos will be used for designing invitation cards to invite guests to your wedding.
15.  Wedding gift list
The bride and groom to be, have to decide on the type of gifts they want to give out at their wedding and if they can afford this gifts considering their budget.
16.  Bridesmaids dresses
The dresses for the bridesmaids can be decided upon months before the wedding, and they can test them to see if they fit them perfectly.
17.  Wedding flowers
You will need a good florist to guide you in the choice of flowers and for your wedding.
18.  Lightning technician
A technician is needed to ensure that light stays on during the wedding.
19.  Transportation for guests and couple
The time before marriage is the perfect time to plan for your transportation and that of your guests.
20.  Honeymoon destination
The time before the wedding also allows couples to discuss where they would love to spend their honeymoon.
21.  Groom's men attire
Shop for the groom's men attire and let them try them on to ensure they fit perfectly.
22.  Wedding rings
These are necessary for the exchange of vows during weddings.
23.  Cake

Decide on the kind of cake you want to be baked for your wedding.
24.  Calligrapher
A calligrapher is needed to print out your wedding invites.
25.  Get Your Marriage Licence
This is a very important step to take before getting married because of it's legal implications.
26.  Premarital counseling
Premarital counseling is very essential in marriages because it teaches couples to be how to best relate with each other and it also teaches them, the dos and don'ts of marriage.
Simple wedding checklist(short notice wedding planning checklist)
If you are like me and love to keep things really simple, this is the perfect wedding planning checklist for you.
 1.  Make Up Your Minds
This stage involves the decision of couples to be married and share their forever together.
2.  Set A Date
Here couples decide on the right date to formalize their decision to get married.
3.  Select A Few Friends To Wine And Dine With
Few close friends are invited to witness the exchange of marital vows between the couple and to celebrate with them.
4.  Enjoy The After Wedding Life
After the wedding ceremony, the couple can now set out for their honeymoon at any destination of their choice.
Wedding Reception Checklist
A proper wedding reception checklist should include: hiring a decorator, band or DJ, florist, technician, caterer, and other people that are needed to make the wedding reception a success.
DIY Wedding Checklist
This wedding planning checklist is pretty much the same as the complete wedding checklist, the only difference that exists between this checklist and others is the fact that it is put in place by the married couple to be, who gets to organize their own wedding.
For you
Thank you for reading this article to the end, I hope it will guide you in making your dream wedding a reality.
Pin For Later