23 Fun Wedding Entrance Ideas- From Bridal Party To Wedding Reception
Looking for some extraordinary wedding entrance ideas? Because why not? You deserve to make a thrilling entrance to your long-awaited bridal party. In this article, we're offering 23 wedding party entrance ideas that will make your guests go "awweee!" and recall your wedding entrance forever!
Wedding Entrance Ideas—23 Best Wedding Entrances people will talk about till the end of time!
Having a wedding is one of the most memorable moments in a person's life. It's a lifelong memory where you celebrate the blending of two souls into one in the presence of family and friends.
The day itself is incredibly wonderful, as it's the time when everything comes together to become one. Two lovers get together forever, and their souls combine with each other.
But what's even more remarkable is your first entry together as a married couple at the start of your special day.
Any wedding should begin with some creative wedding entrance ideas. In fact, a charismatic event includes good people, fantastic music, jaw-dropping décor, and an astounding couple entrance. Here are some ways to make your entrance more intriguing and unforgettable than others.
How to manage the best wedding entrance?
It is finally your day; you are wearing the perfect outfits, and you have planned every detail for this day. You're leaving no stones unturned when organizing the bridal party, but making a simple wedding entrance might feel off, no?
It would be best if you guys had an entrance that people will discuss for years to come. So, ensure everyone is waiting for you and make their wait worthwhile with a unique entry. To help you with this, we have lined up some excellent wedding entrance ideas that will indeed be tagged as the best wedding entry couple ideas.
Here are 23 thrill-worthy wedding reception entrance ideas for your special moment!
1. Entry with some dance grooves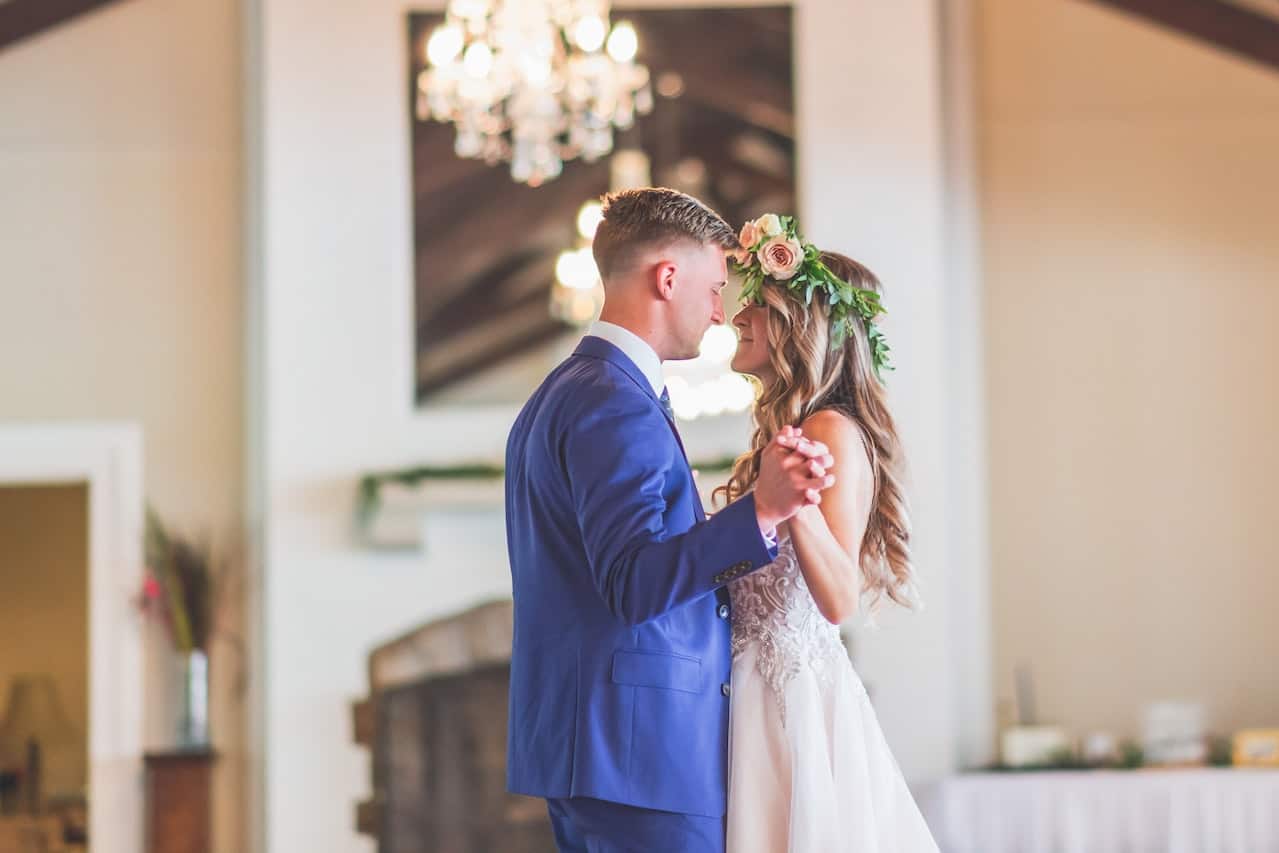 This is an exciting wedding entrance idea if you are looking for something to get people moving in their seats while they wait to be involved.
Hit your favorite dance track and make a groovy entry to the hall, doing some attractive dance moves with your lovely partner. Of course, you can't do this randomly while trusting god. Hire a choreographer who can help you prepare a fantastic dance routine that sets the stage on fire.
Dance and music are great ways to set the mood, sprinkle excitement in the event, and make guests feel like they are part of the party. We are very sure everybody would be on their feet, swinging steps in the air as they see you making a great wedding entrance!
2. Grand entry with the curtain-off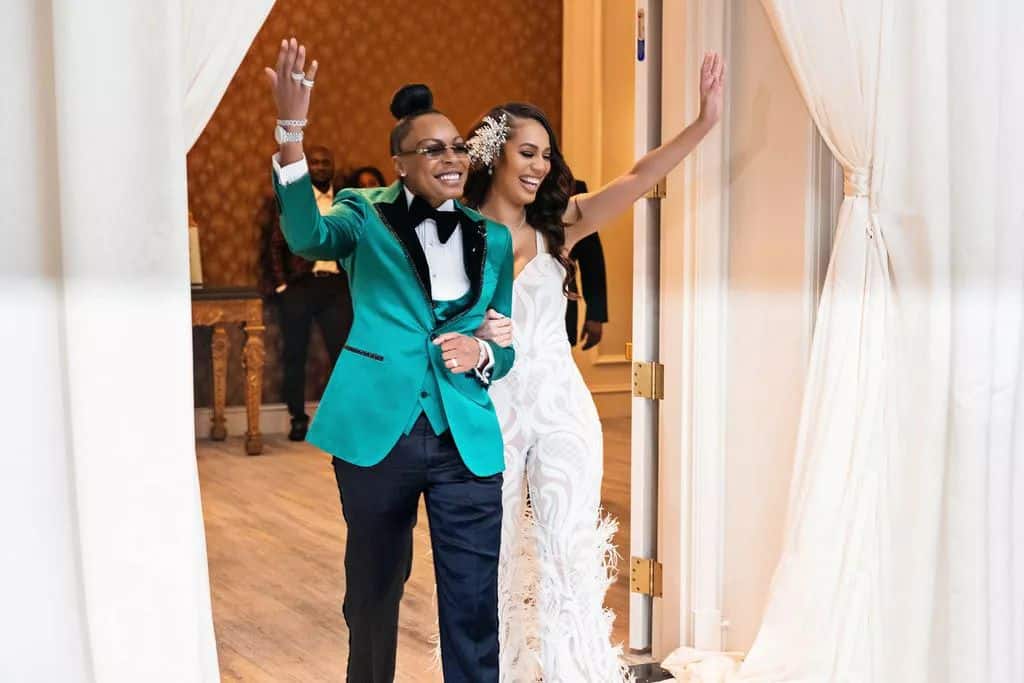 Oh my gosh! This will add a charm to your special day.
Making an entrance out of curtains is yet another luxurious way to get people excited about your marriage reception, especially if it is a large one! The curtains are always excellent when starting a bridal party.
It will leave your guests with a big "aweee," and everyone will be cheering on your classic entry. To make it even more memorable, you can turn off the main lights and turn the focus spotlight on you. Damn! You both will slay!
3. Adding fireworks to your entrance walk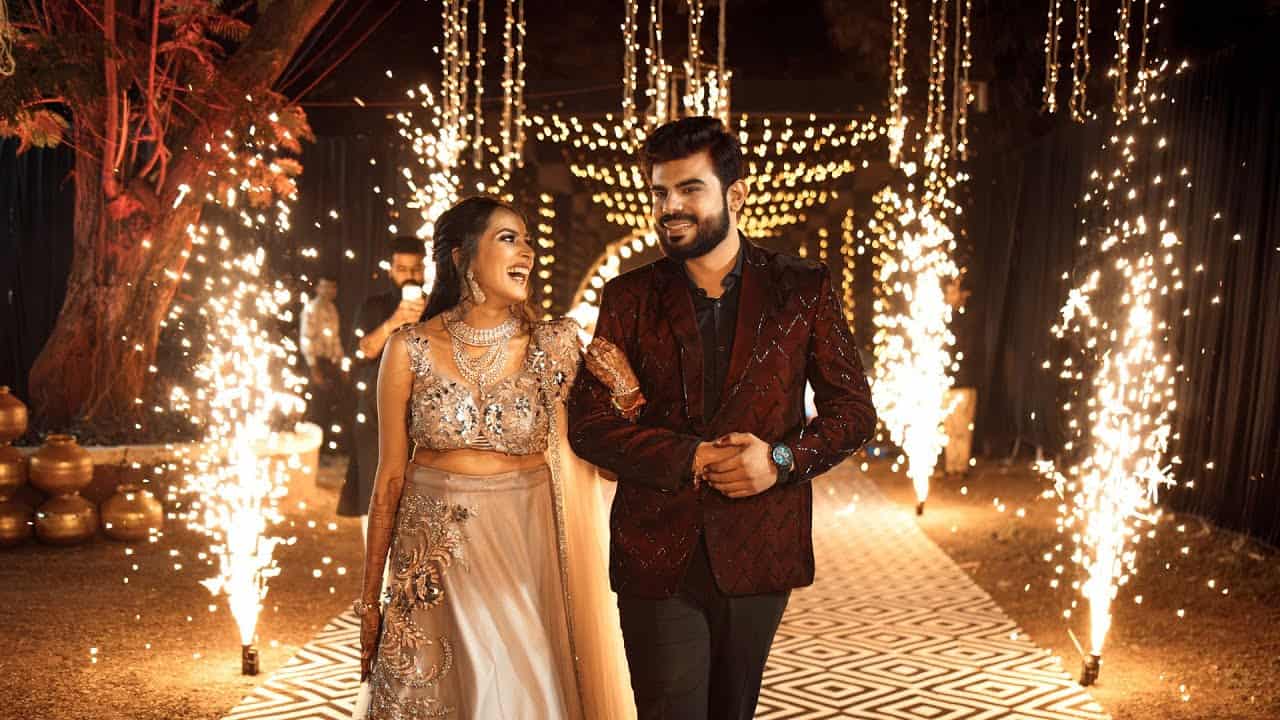 If you're figuring out an enticing wedding entrance that will add glitter to your guests' eyes, pair it up with beautiful fireworks.
The sparkle and shimmer will compliment your grand entrance and make it so unique that your wedding entrance will surely be uploaded on several Instagram stories!
You can expect to see #entrancegoals #bestweddingentrance #relationshipgoals for sure. Moreover, many people might feel inspired and try something similar, too!
Setting off a firework tunnel while you are walking underneath will definitely be something that people will enjoy, and you will, too. Plus, let's not forget how brilliant pictures you will have for the front page of your marriage album.
4. Live music for lively entry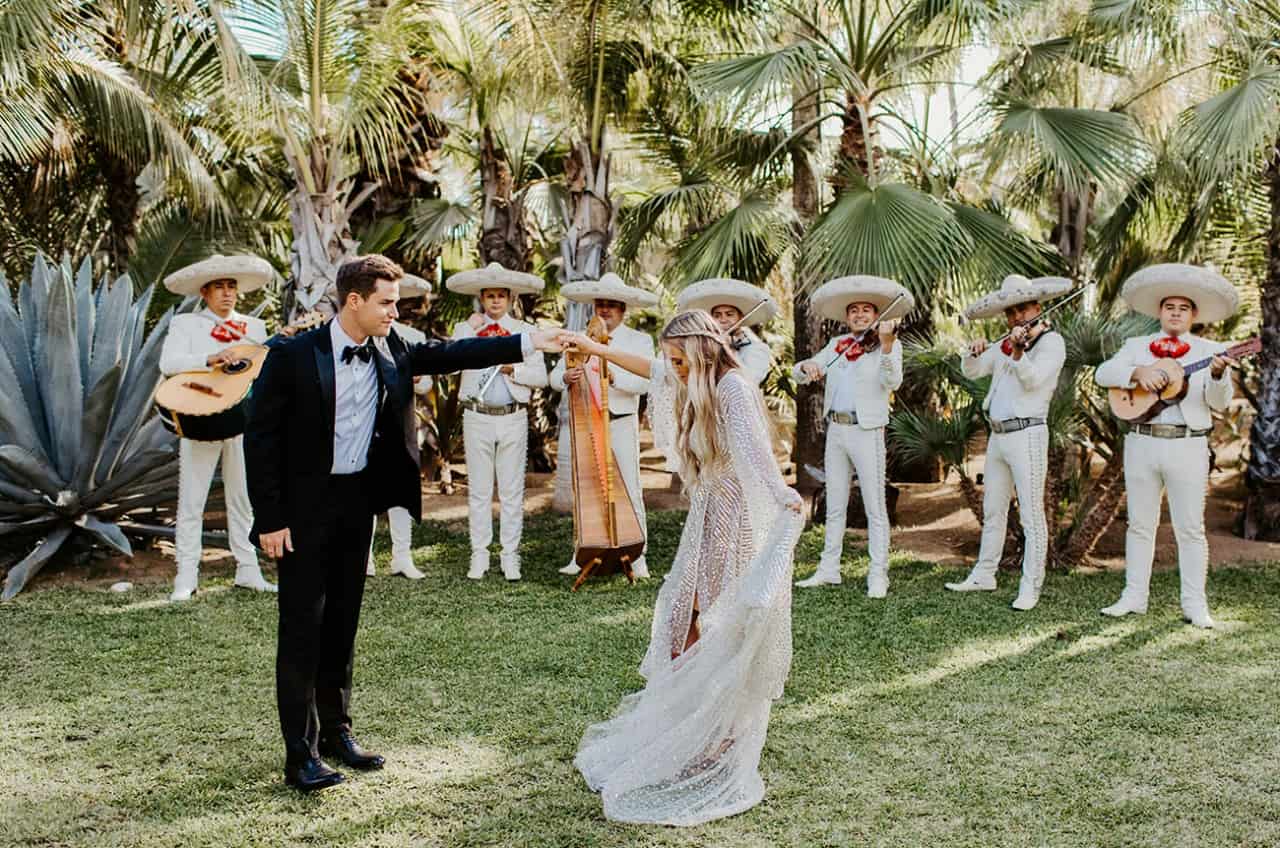 This is one of the best reception entrance ideas.
Music is always a soothing addendum to any wedding. But it's really amusing when the bride and groom lead the dance floor themselves.
A live music band or DJ is a perfect way to start the party. Fog or snow machines can set the cozy mood of your entrance while you are marching in with Beyoncé's "Crazy in Love" or Ed Sheeran's "Perfect".
Another unique music entry can include a mariachi band. Hire a popular mariachi band to escort you to the reception, embracing local music and adding cultural vibes to get the party started.
5. An out-of-the-box piggyback ride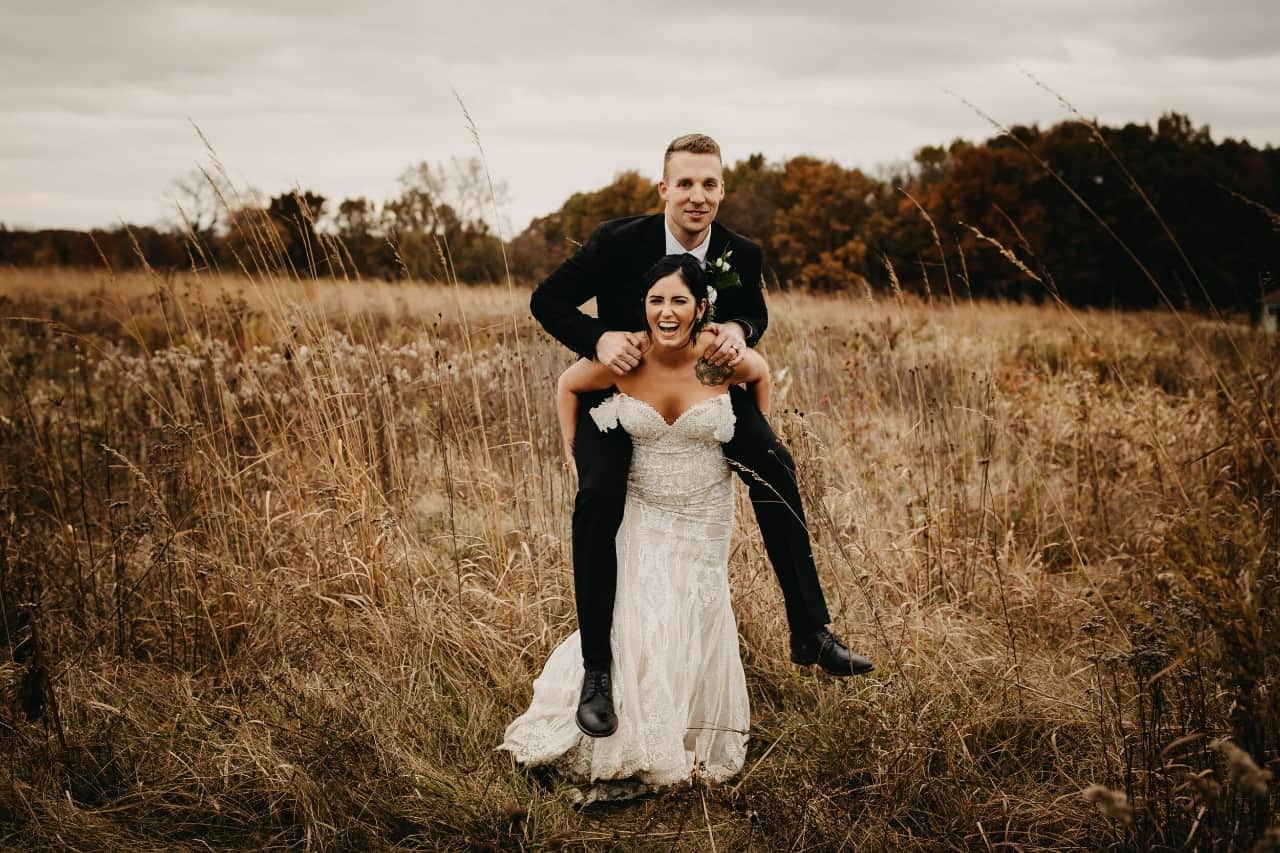 Yes, you read it right! It is charming when the groom gives a piggyback ride to his bride while entering the venue. It is undoubtedly a fun and entertaining entry that every woman in the world adores.
Ditch the regular, holding-hands wedding entry. A piggyback ride will give a bundle of joy to your beautiful bride and guests as well. Plus, this wedding entrance idea will not cost you anything (probably a little pain in your back the other day, lol).
The crowd will go crazy if the roles get reversed, lol!
6. The hand tunnel fits the mood
A simple yet lovely and fun entrance idea.
Walking through the tunnel of hands formed by your friends and family will surely be a budget entrance idea. Not only does it add enjoyment, but it also arouses the attention of people present at your wedding.
7. Entrance with confetti & balloons
Incorporating colors in your entry to the aisle is something so levity.
With the groomsmen and bridesmaids holding and waving the multicolored ribbons, it'd be a picture-perfect bridal party entrance. Agh! While you are entering the stage with a utopian walk, play a background song, "Can't help falling in love — Elvis Presley," it will work as frosting on a cake.
8. Celebrate with sparklers
Do you want a dramatic entry but are bound by a budget? This idea will indeed support your theme.
Your friends and family holding the glittery sparklers and you walking in between will create a theatrical entry. Sparklers create an aesthetic entrance. However, remember to keep safety measures for this idea.
9. A chariot entry for a fairytale feels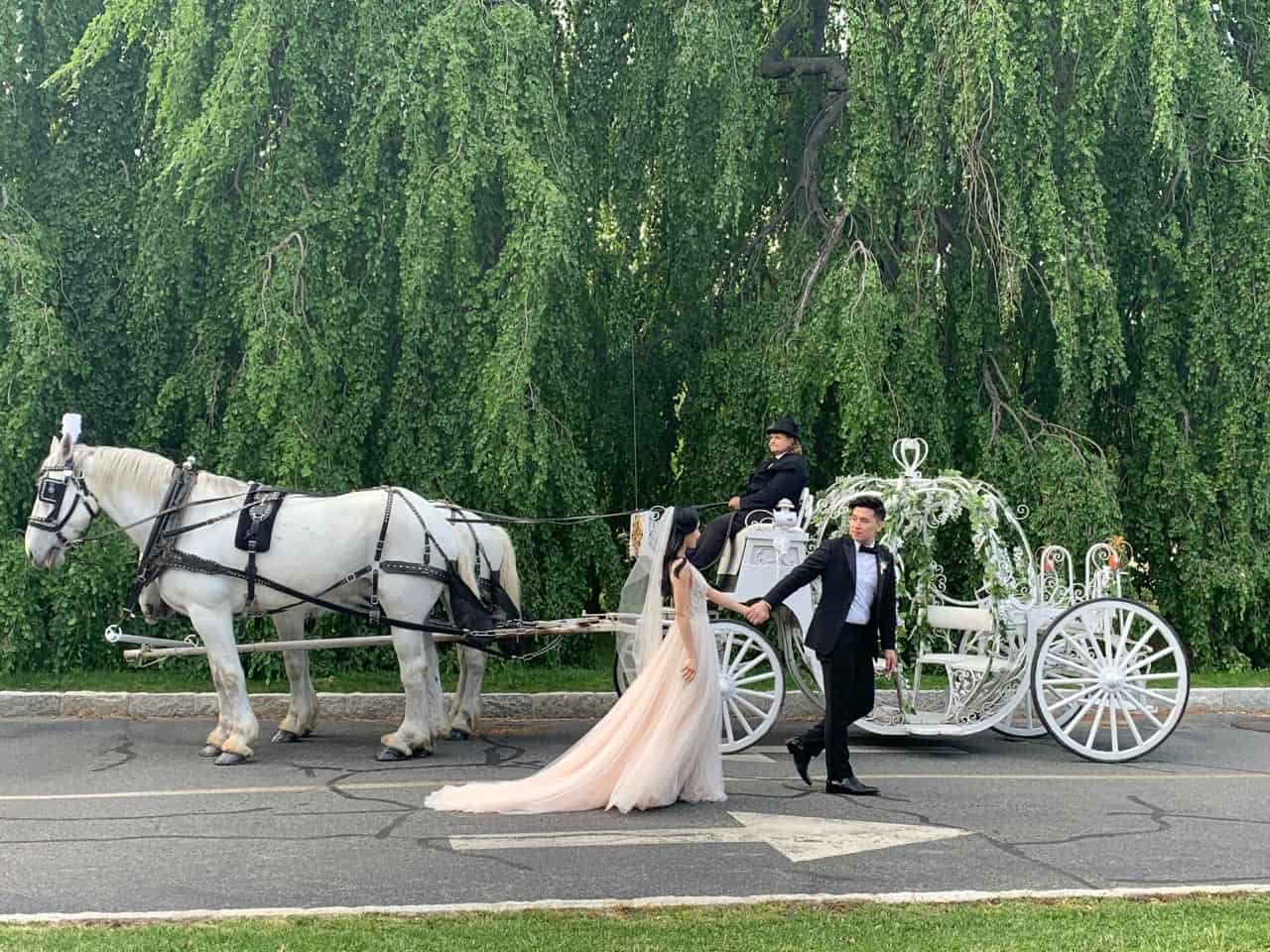 We all have watched those lovely Disney movies with unreal weddings and said to ourselves — "This is what I want for my wedding."
I personally love this entry. Imagine a Cinderella-inspired entrance where you and your partner sit in a chariot, looking like the king & queen you are.
Assist this moment with a song, "A dream is a wish your Heart makes," from Cinderella. It'll be so overwhelming when the bride enters with a Disney queen feel and the groom comes on a horse with a royal hunk feel.
10. How about a zorb ball?
Entering your wedding reception in a zorbing ball is something that can make all your guests leave with an awestruck expression.
It's an idea that is purely out of the box. A zorb ball wedding entrance is such a dazzling entry that it can certainly sign you in a league of "Couple Entry Goals." Of course, your wedding is a special day that is worth remembering for ages. So go with the zorb theme if you want to highlight yourself even in a group of 500 people!
11. Walk into the aisle in his arms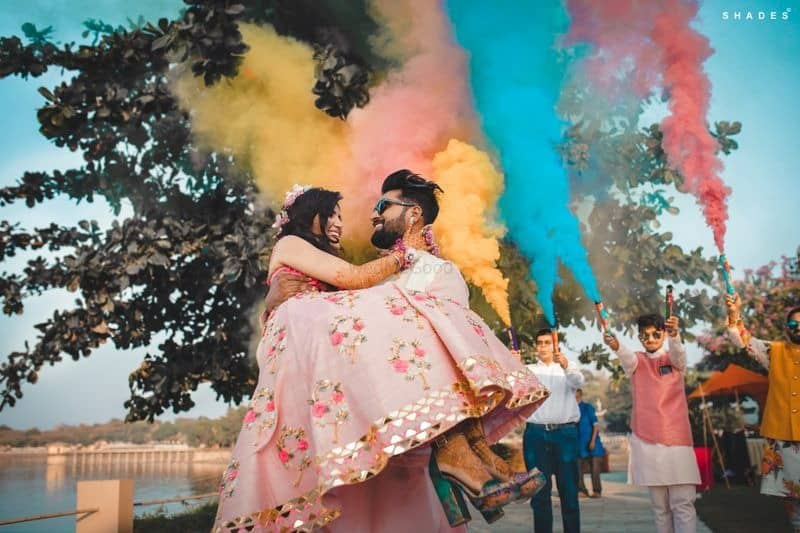 Finally, you are making vows and officially being registered with each other. Don't you want to enter your life as a wife in your hubby's arms?
What is more romantic for a cute couple than this entry? A charming couple walk where the bride is being carried in the arms of his charming Prince.
Syncing this gesture with a romantic song is a good idea. But you probably won't need it as you won't stop hearing your friends' and families' claps and awe. An "Oh-so-romantic" wedding entrance!
12. Entry through the smoke bomb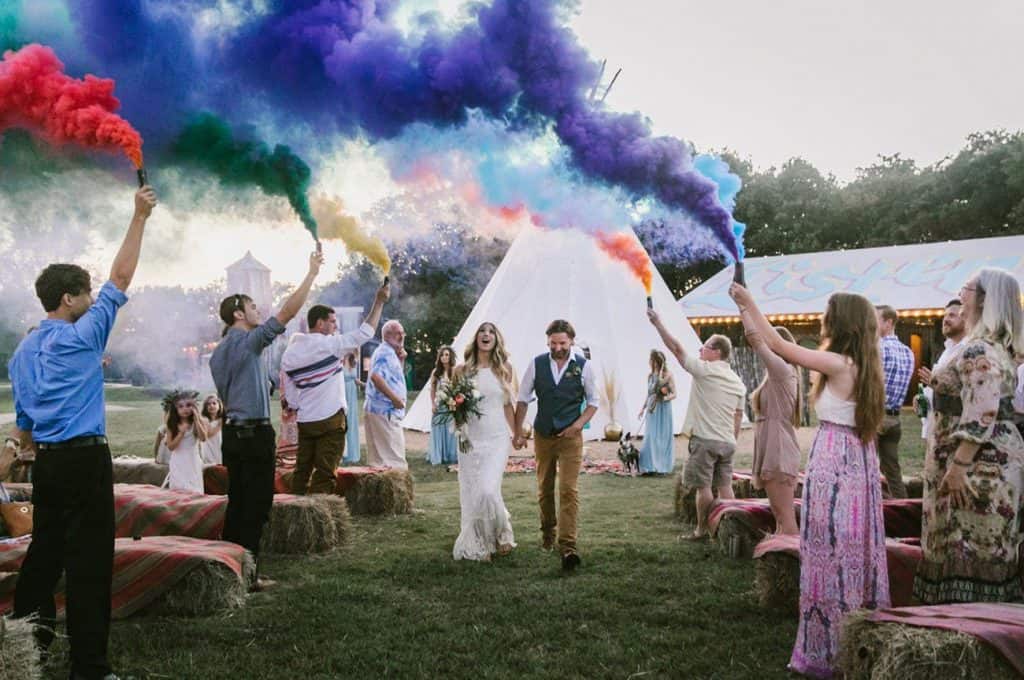 Smoke bombs will work as an ace if you guys want a bossy entry!
This idea is trending a lot in the best wedding entrances, thanks to the wonderful photos of couples it hands over. All you need is assistance from your friends and beautiful color bombs.
Make those bombs pop out when you are striding to the ceremony aisle. Pair it with a bossy wedding song to enhance your reception's overall vibes. Such a colorful and poetic wedding entrance idea is for couples who have shared lots of colorful emotions with each other!
13. Take entry with professional dancers
Another cool idea to spice up your bridal party entrance can be grooving toward the stage with the assistance of professional dancers!
A dancing entry is one of the best ways to show the excitement you have for your wedding. And the professional dancers will take care of all the love formations that can make your entry worth being captured in hearts. Being escorted by professionals will add glam to your entry.
Trust me; it will look fabulous from the viewer's eyes!
14. Picturesque entry with umbrella(s)
Imagine a pretty flower-decorated umbrella under which the cutest love birds are walking down the corridor. "So cute."
Not only is this entrance idea in trend, but it will also be the best prop if you want a wedding entry with minimally romantic ideas. If you wish to go the extra mile, add sparkles or confetti with this idea. The fusion of both props will grant you a memory worth long-term remembering.
15. Be gracious with an entry in a vintage car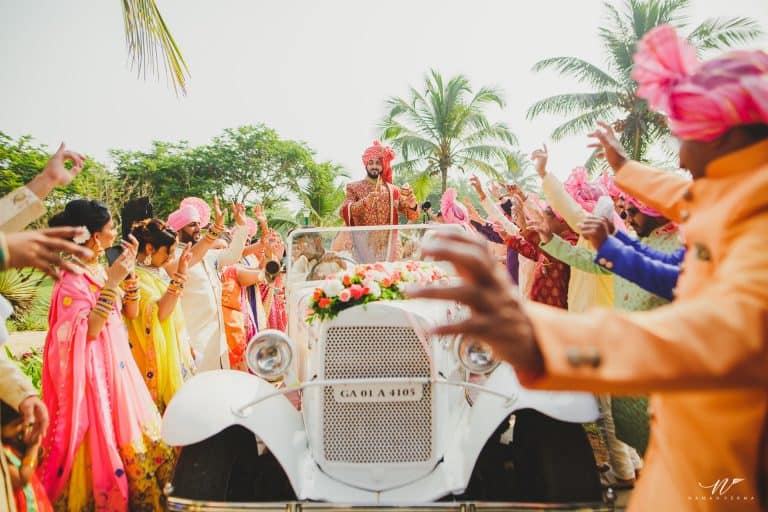 If you are a couple who prefers elegance, grace, and luxury, entering your wedding in a classic vintage car will surely be a banger.
Drive down to your venue and step out in a swag style. Peep, peep! Give way to the stars of the show. Make your wedding photos "oh-la-la" with this classy (with a capital C) wedding entrance idea.
You can also choose to hire paparazzi for this theme. Ask them to surprise you with instant shutter clicks, which quickly shows a valuable couple driving down to their amazing wedding!
16. Entry with the Bills
The only rain that people wildly love at a wedding is the rain of money!
You don't need to shoot original bills or money. Chill! You can use fake bills to finalize this funny wedding entrance idea. Not only will this drive your entry to a more bossy feel, but it will also sum up your entrance with some badass pictures.
17. A royal Elephant or camel entry
All the eyes may be on the wedding couple, but some can't really see your entrance. And that is where this gigantic entry comes in.
Make a royal entry with your bride or groom in a pristine way, using an elephant or camel. Not only will it add aesthetic charms, but it'll also leave your guests speechless.
Moreover, a royal wedding entrance puts together an incredible wedding album loaded with amazing photographs. In ancient times, kings and queens rode on elephants to their weddings, and you will be no less than a royal couple on your wedding day!
18. Grand march for wedding
It is your day, and it should be celebrated like a major event, right?
If you're thinking of a loud, energetic wedding entrance, stroll through some of the best grand march ideas. Make it thrilling and enjoyable by hiring a music band to command a parade and have an enthusiastically energetic entry with your partner.
A great way to start your bridal party. This idea will keep the guests' eyes on you and entertain them unduly. It's impossible to resist joining the march, given they're loud and fun. Hop on to this fun and offbeat wedding entrance idea.
19. Straight out of Heaven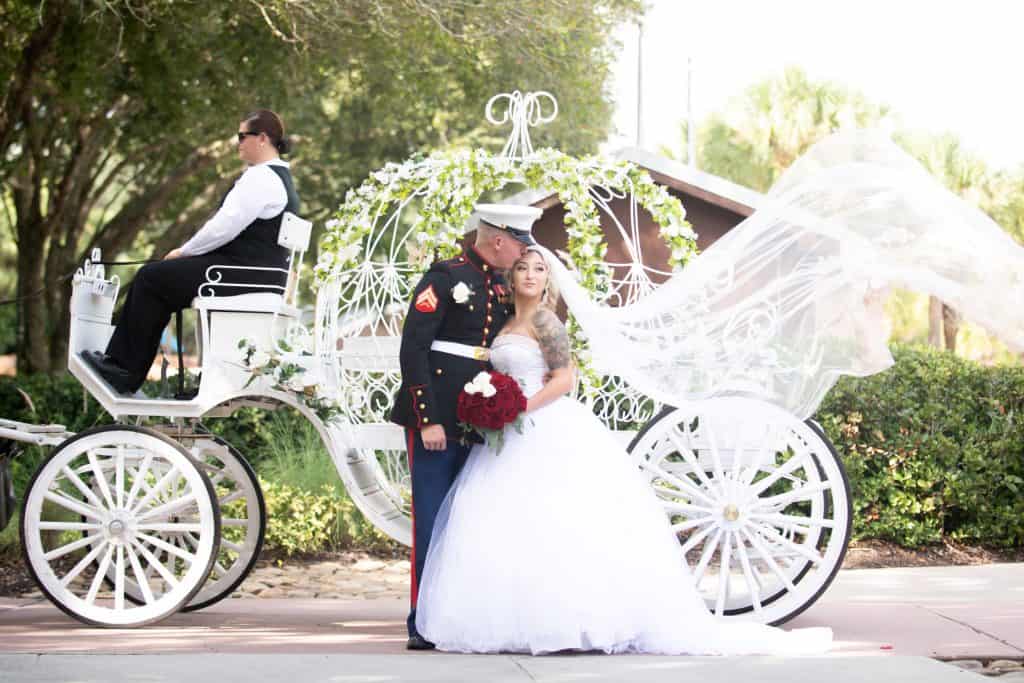 We often hear the phrase, "couples are made in heaven ."So, why not turn it out in reality?
Arrange an announcement for your guests that the bride and groom are driving straight from paradise. Hire a trolley service, and rent a beautifully decorated carriage with flowers!
You can also add sparklers to the carriage's end, and Boom! This wedding entrance idea is indeed a feast for all your guest's eyes!
20. An awesome pawsome entry
Pets are one of our crucial family members. They are there to comfort us in our ups and downs, so why not walk with them to the aisle?
Adding your furry four-legged best friends in the nuptials will undoubtedly assert a unique touch to your wedding entrance. The best way to do this is by buckling your outfits with your pets' collars, using a white chiffon fabric.
When making the wedding entrance, guide your dogs to stroll before you. Their cute walk and happy faces will make your guests fall in love with this bridal party entrance idea.
21. Ditch the elegance
If you and your partner want a kickass entry, then you must try getting in with a dirt bike, an offbeat Rickshaw, or a golf cart!
For this funny wedding entrance idea, you don't need your wedding ceremony to be outdoors. In fact, it would be even more thrilling when you drive in any vehicle directly on the dance floor.
So if you're looking forward to a bold wedding entrance, drive into the ceremony in this classy way.
22. Portray your love story through media
I am sure you guys already have your pre-wedding shoots, right? Give a glimpse of your endless love to all your guests using a big digital screen!
Play pictures of you together in a slideshow as you make an entrance to your wedding. Also, adding some funny screenshots and moments you captured would be great too.
Tell your love story to the guests and walk to the aisle while holding hands. This wedding entry is a "touch wood" idea for sure.
23. A Titanic Entry—sail for your partner
The iconic titanic couple pose is worldwide famous. And trust me, every couple has thought of trying that lovely stance at least once in their lives!
So, why not use it at your precious wedding entrance? Get a trolley and hire some people to build a ship-like structure over it; ensure it resembles the Titanic's front.
A wedding entrance idea like this will surely be unique and jaw-dropping. This will give a spark of jealousy to your friends too. Lol!
So that's it with the wedding entrance ideas; I hope you make the best out of this list. It's fair to assume a good wedding requires excellent songs. Below, we mention some great wedding songs to use on your special day!
Best Wedding Entrance songs to use at your reception!
Although your wedding ceremony may be a huge moment for you, the guests usually wait for the after party!
You can hire the best food service in the world, but what really makes an event unforgettable is music. Having a sloppy DJ run your wedding music will not only ruin the fun but also drive your guests away early.
To help you organize the best bridal party, we have come up with a list of mood-setting wedding entrance songs. These songs will uplift your guests and get them out to the dance floor for some real fun!
Here are 50+ wedding entrance songs for your bridal party—
Songs to walk down the aisle to
Here are some sweet "walking down the aisle songs" that will feel angelic when you're walking down, holdings hands with your partner:
Bridal Party Entrance Songs
Want to make your bridal party entrance lit? Go with these songs—
Wedding reception songs
Of course, you can't leave out music when people are calmly enjoying the reception. Here are some wedding reception songs to keep the mood light!
Wedding ceremony songs
Some songs to play while the wedding ceremony is ongoing—
Wedding walk-out songs
There's good music for every vibe. Here are some wedding walk out songs to end your special day the right way!
Wrapping up
I hope you have explored all the wedding entrance ideas mentioned in this article. The wedding and your attractive entrance will be a hot topic to talk about for a long time.
We have jotted down all the great ideas for people who are under a budget and for some who like to go exotic, royal, or classy and sassy.
But remember, it's you guys who can catch the eyesight of the crowd. Your happiness and love should outshine all the other things. Oh, and Congratulations. Toast for you! Cheers!
Pin For Later!