44 Fall Wedding Ideas For The Ultimate Autumnal Affair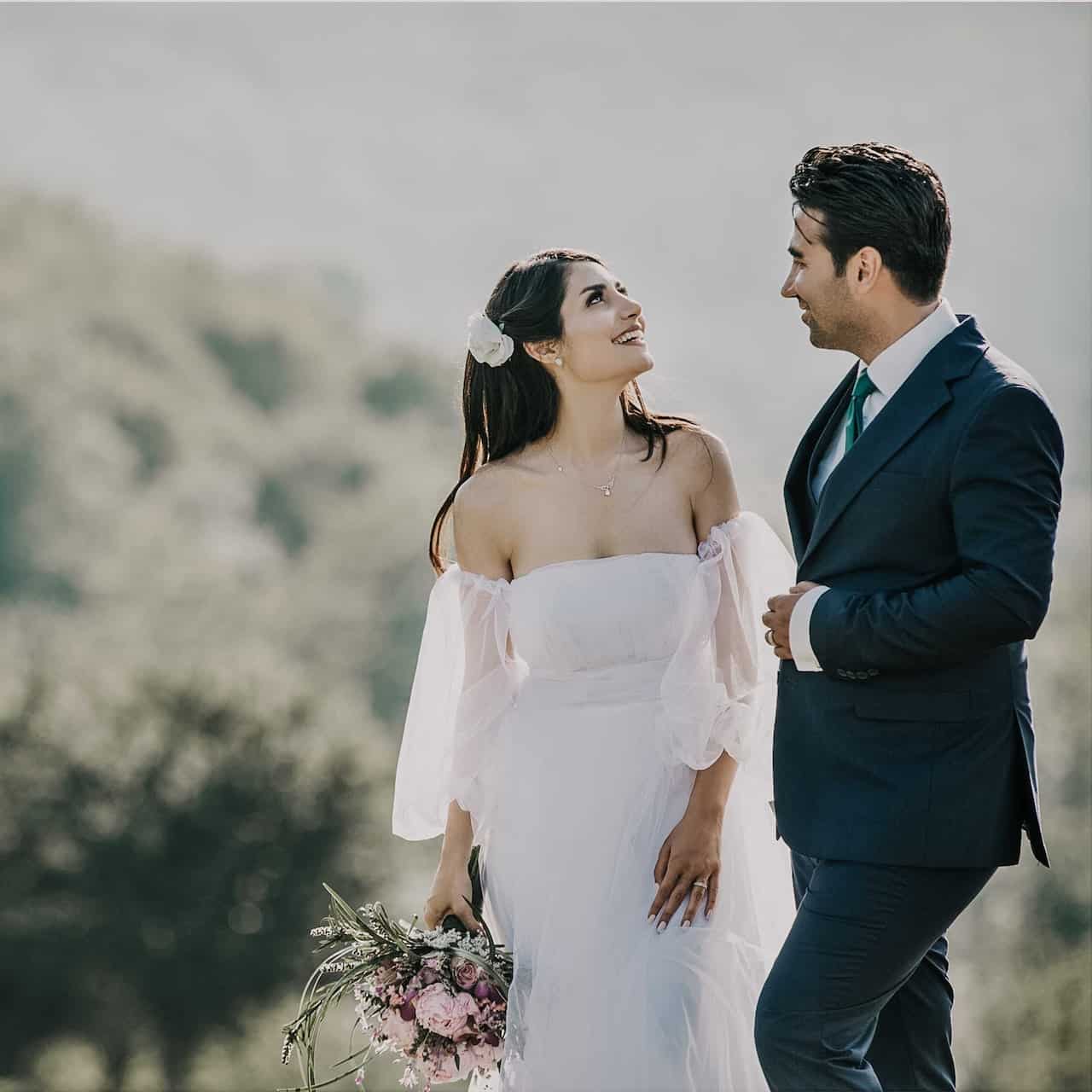 A fall wedding around the corner is bound to be magical and intimate. Planning on how to make your fall wedding look astonishingly phenomenal? Here are 44 fall wedding ideas that will take your breath away. These fall wedding ideas will make your wedding the talk of the year, trust me.
"Let the cold breeze sway your hair and ruffle your wedding dress a little."
I mean, every season is beautiful enough to hold a wedding, but a fall season? Now, that invites endless possibilities for a fairytale wedding!
Fall wedding Decor ideas
Confused about how to make your fall wedding extra special? Here are some great fall wedding decor ideas to refill your special day with vibrancy, autumn hues, chic style, and rustic ambiance.
From centerpiece ideas for your fall wedding to fall wedding reception ideas— we'll help you make the best of this fall season!
1. Wedding vows at an arbor with autumn accents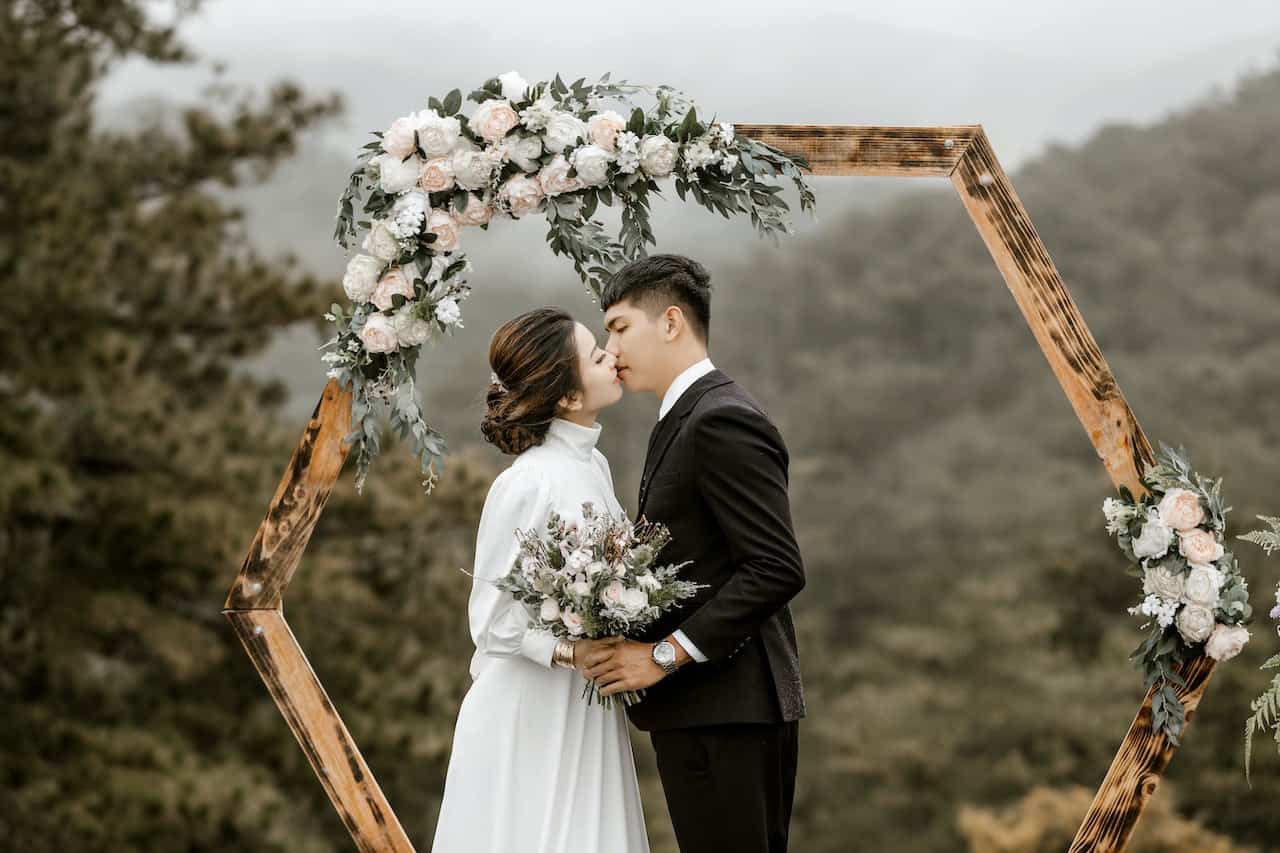 Arbor, or arch, is the focal point of your dream wedding— make sure it stands out beautifully. Luckily, fall is just the perfect season to get romantic with the decoration. Why leave the wedding mundane and pale when you can color it with sunset hues?
Most weddings use red/white roses to engulf the whole existence of the arbor. It's dull and outdated. For your wedding, choose fall flowers—
Chrysanthemums
Goldenrod
Amaranthus
cornflowers
Pansies
Aster
Violet
Sunflowers
Gomphrena
Dahlias
Cymbidium Orchids
Use autumn twigs, maple leaves, dry branches, shells, and vines to match the season. For an extra bohemian vibe, don't go with machine-cut wooden arbors. Instead, use dry branches to create an aesthetic center.
2. Go for hexagonal, circle, triangle, or four post arbors
Autumn wedding arbors look magnificent in an outdoor wedding arrangement. So, choose a destination with multiple fall trees and autumn alleys.
2.1. Triangle arbors are the new demand for the fall season. It's modern, subtle, and beautiful. Pampas grass and autumn flowers will compliment the arbor with a bohemian vibe.
2.2. If you want your wedding to be deeply seasonal, go with round arbor. Round arbors can use and display more flowers and will give your wedding a sunset appeal.
2.3. Hexagonal or other shapes: A hexagonal arbor will add charm to your wedding if you are a couple looking for a modern or industrial ambiance.
2.4. Four post arbor: Amongst all, four post wedding arbor is probably my favorite. Add autumn-colored drapes, warm white lace/georgette curtains, metallic lanterns, hanging teacup candles, and flowers to this center.
You can also decorate it with pumpkin stands, mini pumpkin carts, and candle jars. Cover the area inside the four-post arbor with maple leaves to accentuate its overall beauty.
3. Black roses and autumn flowers: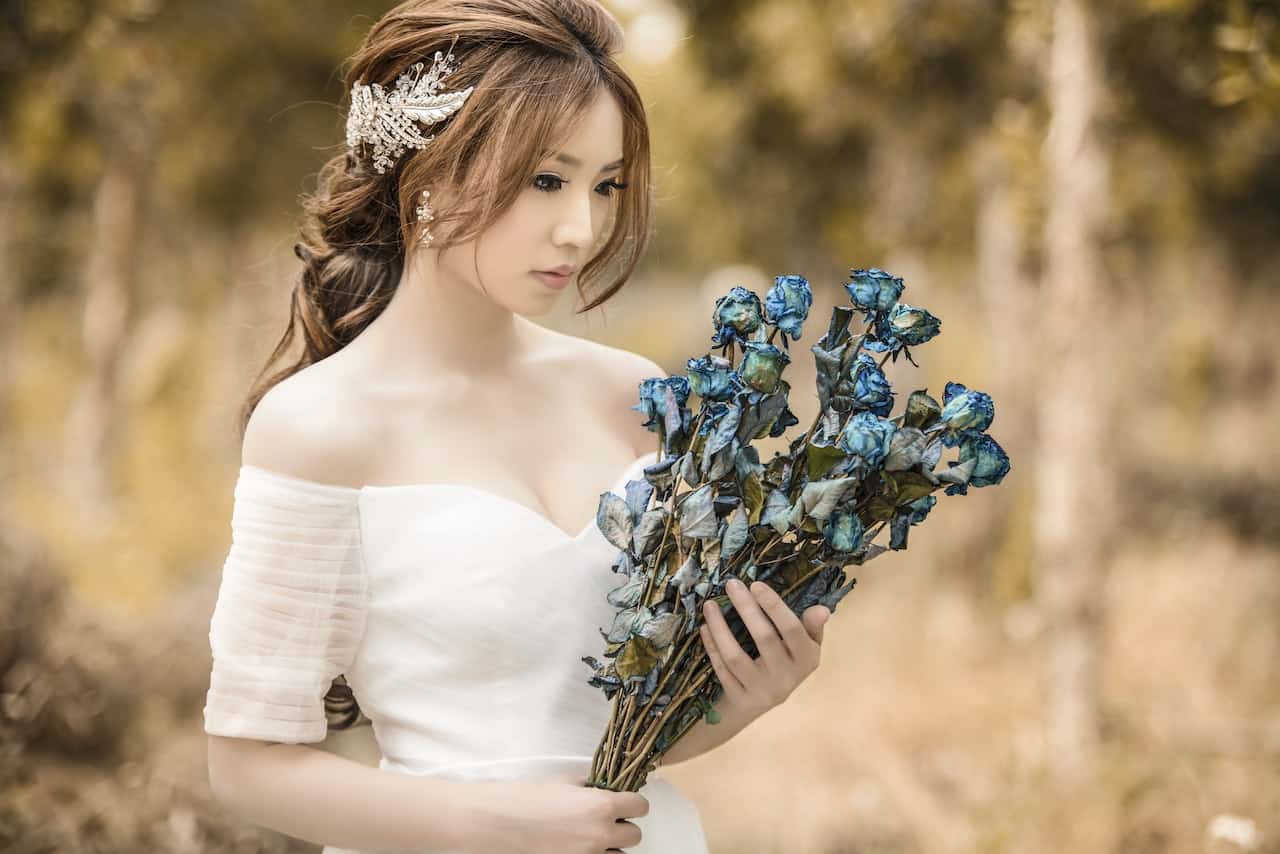 You will require a little more effort to combine your goth theme wedding with the fall season. Fall season is full of colors, but goth weddings often prioritize a darker theme. However, the contrast between these two strikingly different themes will actually create a beautiful panorama— dark compliments the light.
On black table clothes, add fall flowers along with the black candles. Use suspended black roses for the dining tables. That's how you arrange flowers for a goth-fall wedding. Lastly, add fairy lights to illuminate this artistic blend.
On a completely different note, you can also combine black roses and autumn flowers in bouquets— this fusion would also look breathtaking and picture-perfect.
4. Candle-lit aisle, fairy lights, and altar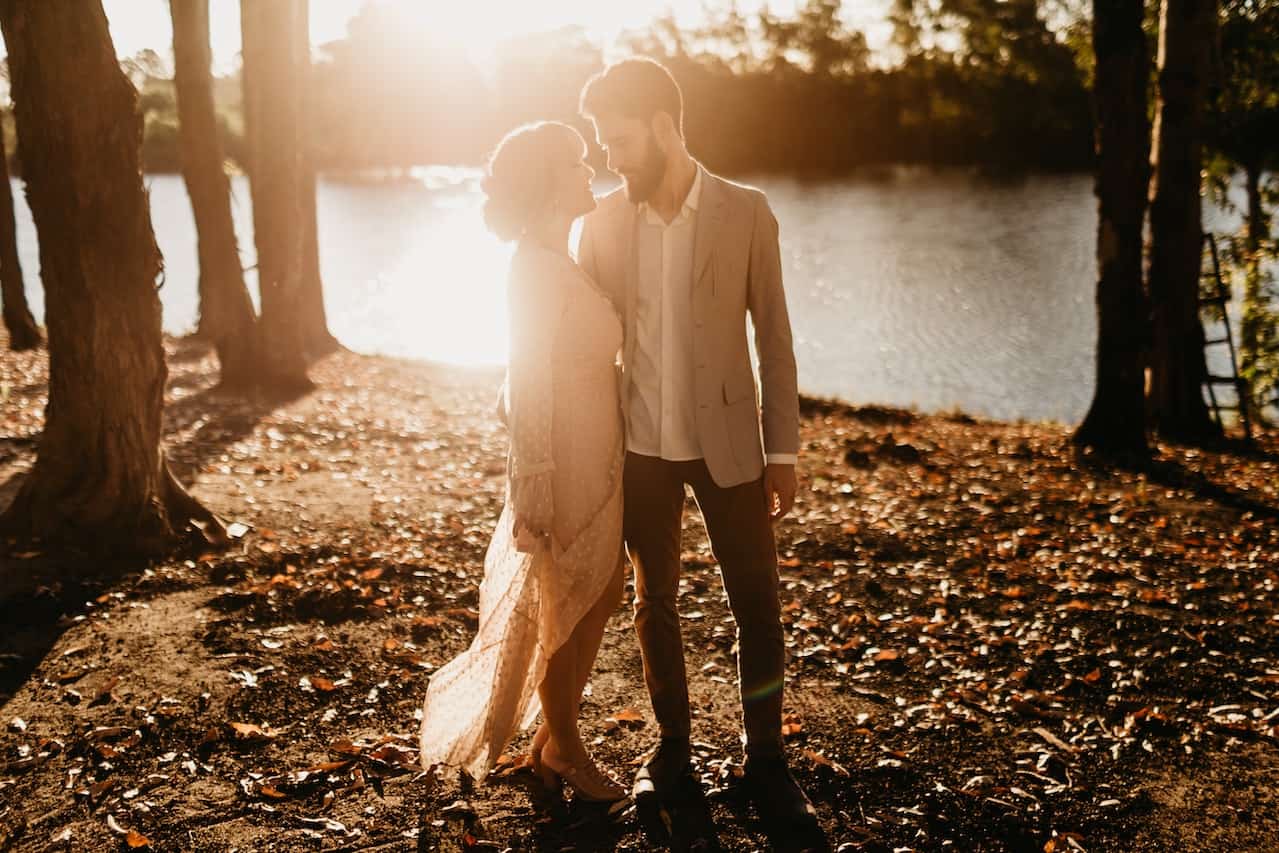 Your wedding would look gorgeous under a thousand lit candles and fairy lights. So, for this fall wedding, ditch every other light and illuminate the room with candles and candles only! Ensure all your decoration is warmly lit with candles/fairy lights to not lose face or character.
5. Metallic glamor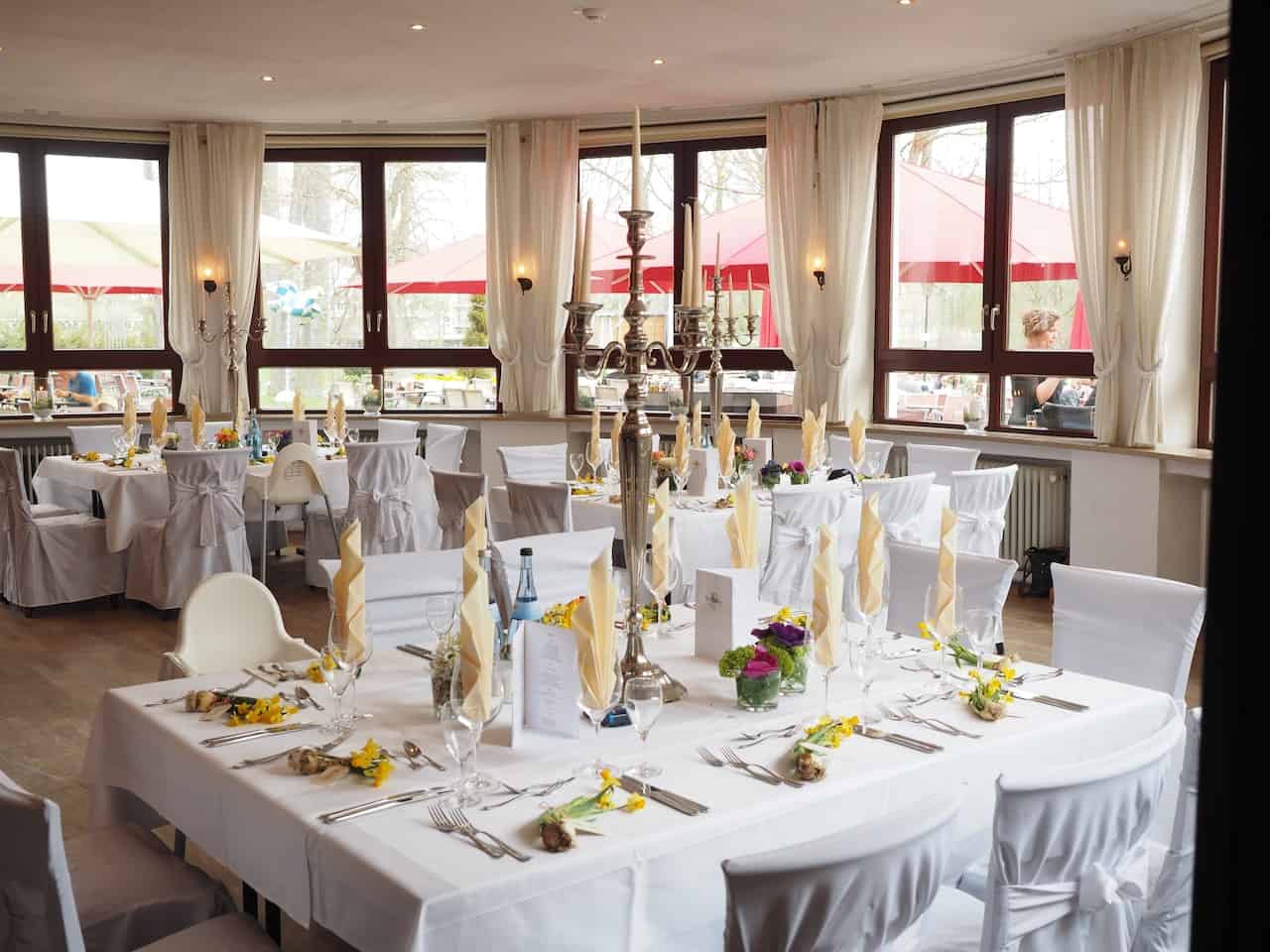 Fall wedding and metallic decor is a classic combination of modern ambiance and nature. Choose copper/bronze cutlery/stemware for the reception, and floral ceramic crockery for serving food.
For the centerpiece, choose metallic candelabrum or metallic candles. For the bouquet arrangement, assemble metallic vases and pots. Presently, metallic tubes and line vases are very trendy for weddings.
Some popular metals to use for your fall weddings are:
Gold-coated iron,
Copper-coated or bronze-coated metal.
Please avoid silverware because it doesn't accentuate your floral wedding theme/fall season as much as copper/gold or bronze can!
Using metallic escort cards and name tags is also very trendy for fall wedding ideas.
6. Autumn glassware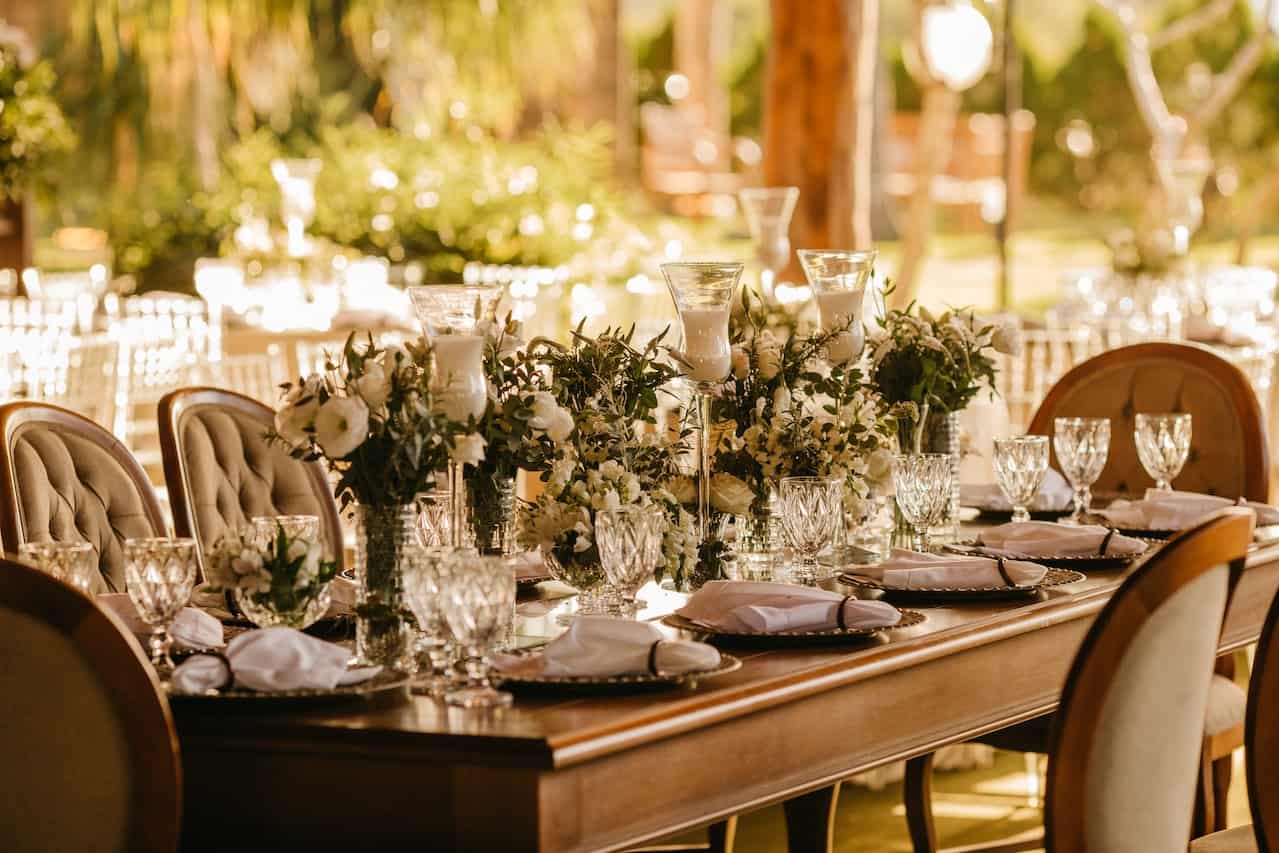 If glass and crystal are your choices over metallic accents, so be it! They are bolder, more colorful, more autumn-ish, vibrant, and come with infinite variants.
Glasswares are also unique because you can customize and design them yourself. This custom-made feature will make your wedding unique and different from the rest of the weddings.
So, choose your own shape, stem, and design for each glassware in your wedding. To complement the fall season with simplicity, try to find umber/bronze-colored glasswares.
However, if you want to be extra catchy and artistic— choose transparent glasses with colorful maple leaves' art. My personal favorite glassware is the one with small orange-brown maple leaves handwork. They are subtle yet so classic.
7. Golden pumpkin
Small golden pumpkins are affordable decor ideas that you can use to create paperweights for escort cards. They will stop name tags from flying away and will also look great on the table.
You can easily DIY golden pumpkin by layering it with thin metallic sheets/leaves. You can also use bronze or copper metallic leaf to make the pumpkin look classier.
8. Pumpkin decoration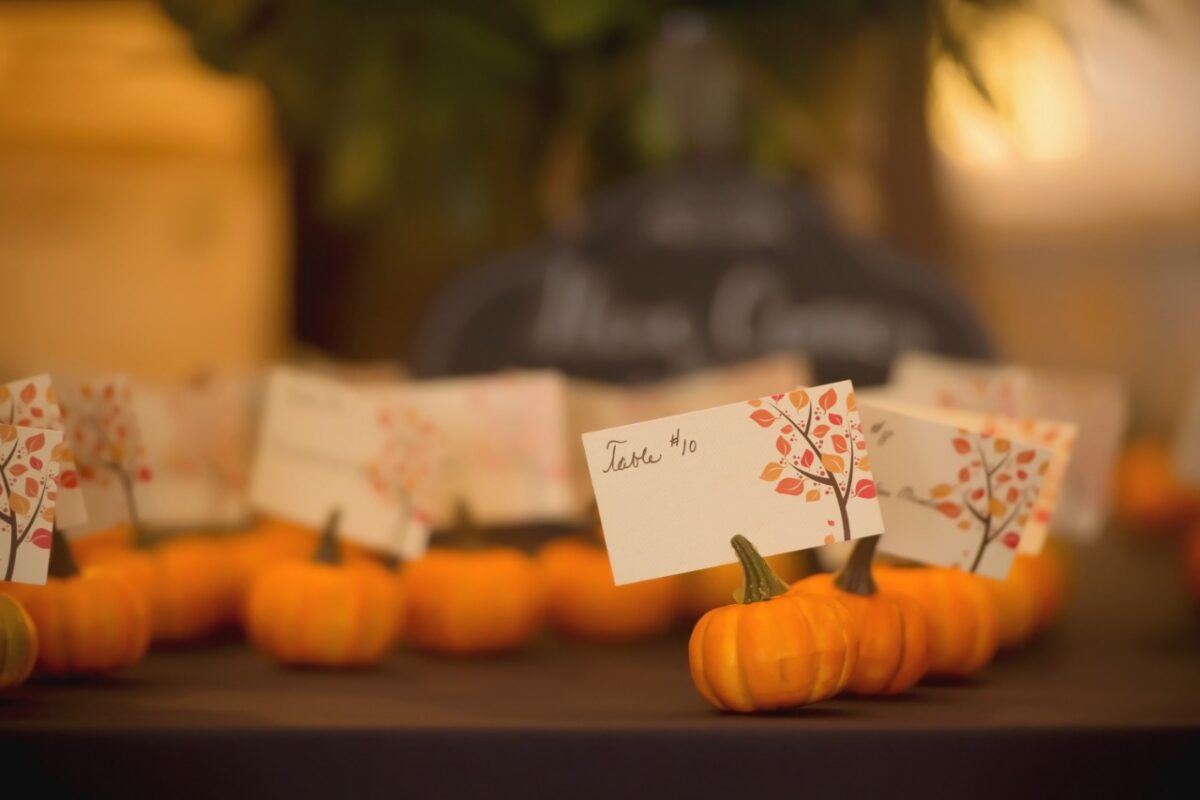 Just like maple leaves, pumpkins can also be used literally everywhere— the best part is that pumpkin decoration always looks flawless!. Another great thing about pumpkins is that you can decorate them however you like.
8.1. You can paint pumpkins in various colors.
8.2. You can layer them with bronze/copper metallic thin sheets.
8.3. You can dip them in glitter or carve them to make great centerpieces.
8.4. If it's a candle-based wedding, you can create pumpkin candles, too!
Using pumpkins isn't only seasonal, but also a great method to make your wedding attractive on a cheap budget! Using pumpkin decoration in your wedding is one of the best cheap wedding ideas!
9. Hundreds of string light as your wedding ceiling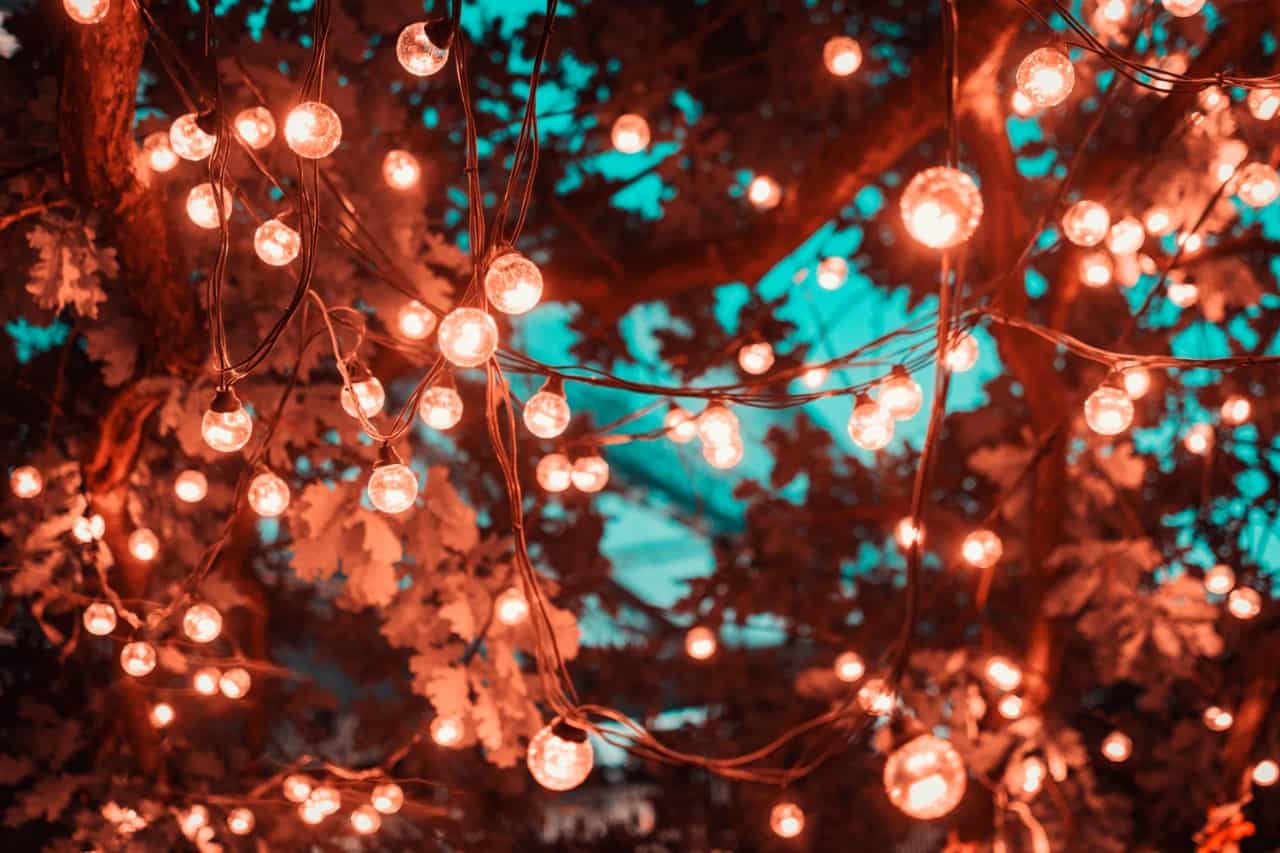 Have you ever seen the Christmas LED lights display in Japan? The whole length of the alley is covered with fairy lights creating a dome-shaped entrance. Something similar at your wedding would look great!
You don't have to incorporate thousands of fairy lights, but a fairy light ceiling would serve the night just right. You can use this fall wedding idea for the altar or the outdoor/indoor reception— the choice is yours!
10. Foliage tunnel aisle with fairy lights
Create a bewitching foliage tunnel aisle with dry branches, maple leaves, and hundreds of fairy lights— it will dramatically complement your fall wedding theme at night.
That's not all, this foliage tunnel aisle would also look exceptional during sunset— so it's a win-win fall wedding idea.
Fall wedding ideas on a budget
Weddings can be expensive, but not at this time of the month. Thanks to the fall season, you can cut the decoration cost by half because it's already beautiful out there.
Given all the luxury of the fall season, cheap fall wedding ideas don't seem far-fetched; they are very much possible!
You just need to get a little more creative with the season! Use seasonal fruits, foods, beverages, maple leaves, autumn flowers, and lush greenery to your advantage.
11. Candles and pumpkins for the aisle
After fairy lights, your best choice would be candles accompanied by pumpkin floral carts at the aisle's side. Create two straight lines with candles and pumpkin accents. Plus, pumpkins are just the right choice for the fall season.
Candles illuminate less, so make sure you have lit enough candles for the night to glow beautifully.
12. Maple finish
There's no doubt that the autumn season is magnificent in every essence. However, the maple leaves' shape and the ever-changing color make this season extra special— they are so simple, earthly, vibrant, and beautiful!
You can use maple leaves in almost every aspect of your wedding.
There's an escort chart; well, border it with maple leaves.
Name tags? Yes, it would look great with a single maple leaf.
Fall wedding cake? It should definitely have (fondant) maple leaves on a trail.
Maple leaves go with everything and anything. So, use them as much as you can!
13. Pumpkin vases
Pumpkin decoration will bring you closer to the harvest season. One great pumpkin idea is to have pumpkin vases on your dining table, reception, food corners, and the altar. You can carve and decorate them with beautiful autumn flowers.
You can even create Cinderella pumpkin carts with golden ornaments to add a fairyland touch to your wedding.
14. Aisle decorated in maple leaves and fairy lights
If the foliage tunnel seems too grand, a lit-aisle floor will look absolutely stunning too at night. Add vintage lamps to the side seats and create two straight lines of maple leaves for the bride to walk in. Accompany the maple leaves with fairy lights on the ground.
15. Bohemian hay bale seating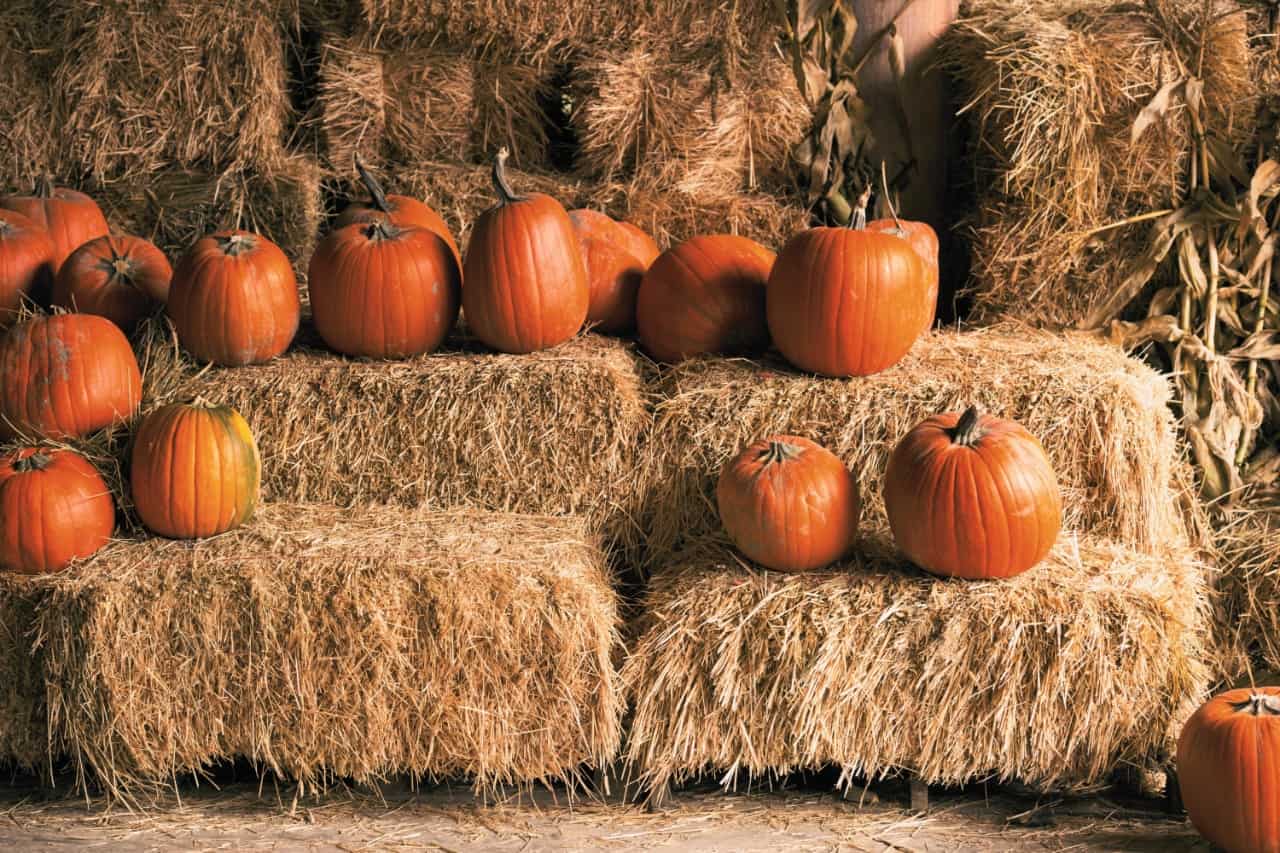 You must agree that the fall season has a different countryside vibe— the cold crispness and its wide range of colors will inevitably bring you closer to nature.
To provide a bohemian and countryside vibe to your overall wedding, why not go with a hay bale seating arrangement? It adds an avant-garde appeal to your reception. While the idea may sound bizarre, it's beautiful, minimalist, cost-efficient, and bohemian. Cover the hay bale seating area with autumn-colored and/or white tablecloths.
Many couples use cultural seat covers to bring colors to the wedding— Mexican, Indian, and Arabian. I highly recommend adding Rajasthani pillows and seat covers to your hay bale seating.
15.1. Add handicraft baskets with fall fruits for the guest
15.2. And autumn flower bouquets at the side of the aisle to enhance your wedding's bohemian vibe.
Outdoor fall wedding ideas
There's so much to do outside when planning a fall wedding—
you can get married beside the sunset
Or sink deep inside the maple pond.
If that's not enough, decorate every fall tree with lights and candles because it's your day!
If you are someone who embraces mother nature and the beauty that surrounds the season— these outdoor fall wedding ideas will surprise and excite you immensely.
16. Mountain and waterfall venue
If you can land at a place where waterfalls and mountains meet— don't let it go! An outdoor wedding is exceptional, but with a waterfall as your backdrop? Now, that's the panorama you should look for if you want a glamorous and earthly wedding.
Let this waterfall be the panorama for your altar, and watch how the wedding photoshoot turns out! Plus, waterfalls, lush greenery, and raging mountains complement the fall season, so why miss the opportunity?
17. Al fresco dining amidst the beauty of nature
The fall season is way too mystical to spend the evening inside. Imagine a wedding
where maple leaves naturally decorate your floor,
where golden-brown trees provide you a warm canopy,
and where the sunset is your private backdrop (Well, we can have that)
So, hold your reception outside in the forest where there are a lot of orange-brown trees and cobblestone pavement.
18. Outdoor fall wedding ideas for maple photoshoot
Scatter maples leave on the ground and lie down with your (now) husband. The golden, orange and brown hues of maple leaves will contrast beautifully with your white wedding dress.
19. Outdoor wedding with a miniature pond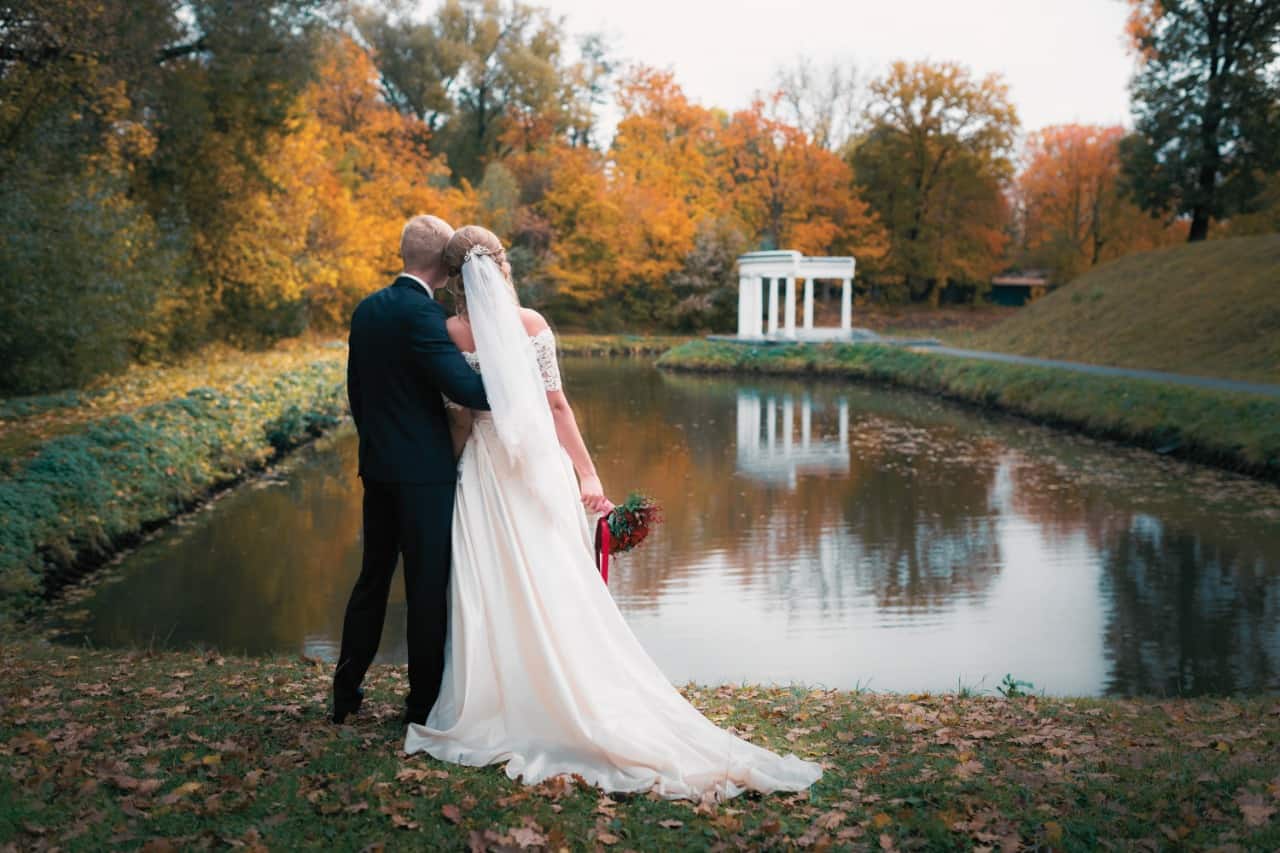 For a fairytale wedding, nothing beats a pond surrounded by lush greenery. Scatter maple leaves and floating candles in the pond for your fall wedding.
Some couples even organize an in-water wedding photoshoot. It's different and chaotic, and the results are absolutely breathtaking.
20. A wedding boat inside the pond
For couples who don't want to get drenched and ruin their wedding dress in the water— you can always choose a beautifully-decorated boat to have an in-water wedding photoshoot.
Use autumn flowers and lanterns to cover every length of the boat and sail towards the center. Sitting amidst thousands of lit candles, scattered leaves, and floating lanterns will create a majestic panorama for your perfect fairytale autumn wedding— similar to the famous Disney movie tangled.
21. Fall wedding at night
While sunset weddings are gorgeous, night-fall weddings are grand! Decorate every tree of your wedding with lanterns, fairy lights, and glowy hanging lamps.
"There's nothing as "too many fairy lights." The more, the merrier.
22. Outdoor fireplace
We have all seen the golden-hour glow at noon, but have you ever witnessed the golden-hour glow at night? Well, you will experience it with this outdoor fireplace fall wedding idea. The fireplace's flames will allow you to glow like peaches and honey. It's a great installment for night wedding photoshoots.
Choose a cobblestone fireplace to enhance its overall aesthetic appeal.
23. Bonfire beside the bay-hale seating circle
When the fun finally subsides (wedding shoe game), get out in the crisp-cold air with your husband and friends and sit beside the bonfire to enjoy s'mores, autumn's chilly air, and memories.
It's the most perfect venue to sing a soothing song to your lover and enhance the night's beauty. You can stay beside the bonfire throughout the night if you'd like— dance, groove, kiss & hug, relax, sing and spend the night making hundreds of memories.
24. Decoration beside the bonfire
Barbeque, bay hale seats, candles, beers, jazz set-up, and sometimes Karaoke will add a mesmerizing experience to your wedding. The night's youth, fairy lights' glitter, and bonfire's warmth will add a soothing vibe to your wedding, so don't miss the chance. It's raw and yet so blissful.
You can also DIY a bamboo teepee with golden lights to add aesthetics to your bonfire night.
Rustic fall wedding ideas
If you are not a fan of extravagant and overly-upscale weddings either, here's a list of some great rustic fall wedding ideas— get introduced to a wide range of warm tones, coziness, and drop-dead gorgeous aesthetics with wooden elements.
Along the line, get a more comprehensive experience of some great country wedding ideas for fall.
25. Barn wedding— one of the best fall wedding ideas to enhance cottage core theme
Okay, barn weddings and the autumn season walk side-by-side— you cannot separate the two; they are made to entangle. If barn weddings are a new concept to you, let me tell you— they are the most aesthetic wedding themes out there.
A barn wedding will offer you a vintage cottage, a rustic interior, and a countryside vibe— add autumn flowers to your barn wedding theme, and you will be able to bring your fairytale wedding dream to life.
26. Wood log accents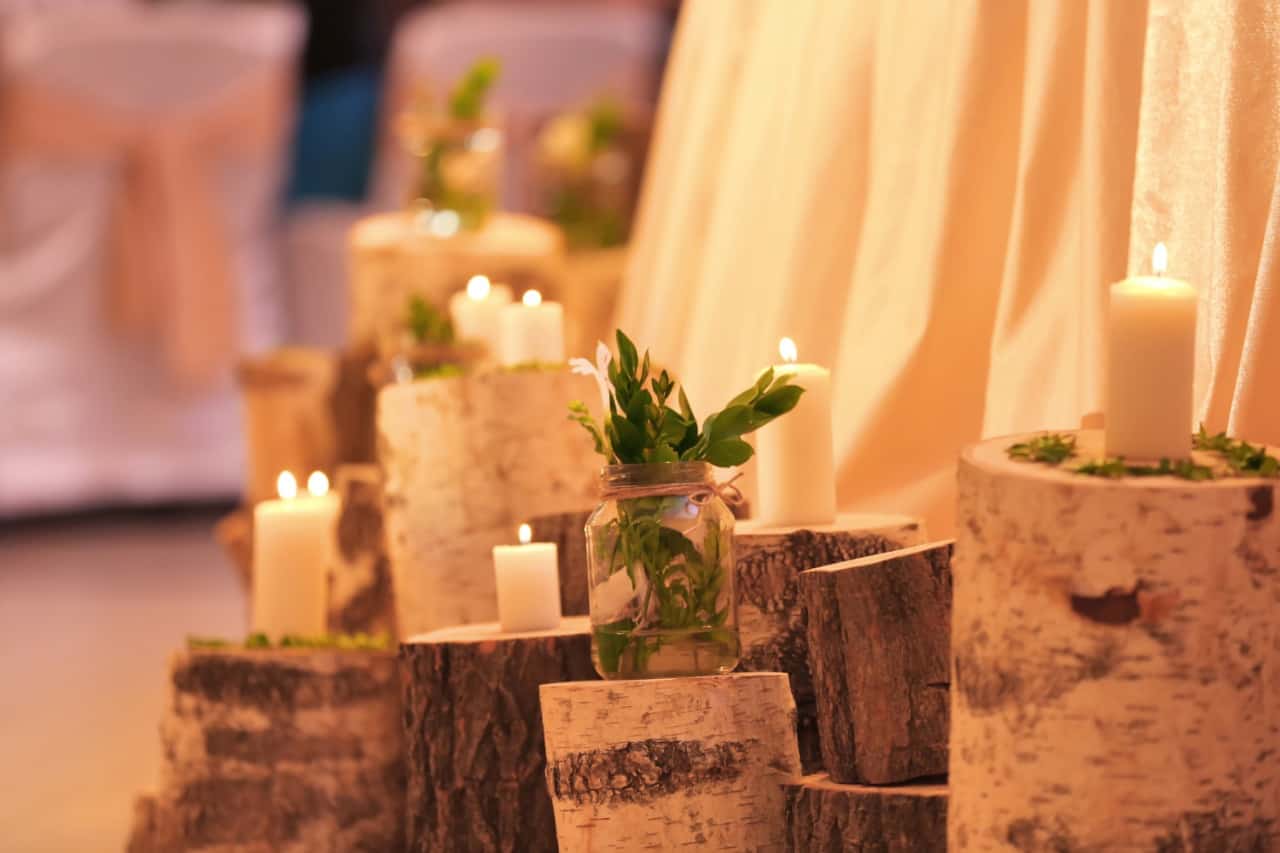 Want a rustic wedding in a cozy cottage engulfed in nature? Well, there's a barn wedding, but don't miss out on the opportunity to give your wedding a similar rustic appeal regarding adornment.
Wood logs are just the right choice to enhance your barn wedding. Where to use them? Well, literally everywhere.
26.1. Wood log candles: Wood carved candles will be an aesthetic accent to your cottage and altar. Use them anywhere and everywhere.
26.2. Wood log stand: organize heavy wood logs together to assemble candle corners.
26.3. Name tags on wood log slices
26.4. Wood log cake holder.
26.5. Wood log slice centerpieces to display the floral arrangement of the dining area.
26.6. Wood log aisle along with candles and autumn flowers.
26.7. Wood log for the escort chart.
Wood logs look exceptionally beautiful when adorned with fairy lights—the brown and golden contrast is the essence of a rustic-themed wedding.
Fall wedding signs
Ditch those old-fashioned fall wedding signs and add more autumn charm to your wedding with these maple escort cards.
27. Maple escort cards
You can create maple escort cards with thin wood cutouts or colorful deckle papers—both choices would look exceptionally unique.
For an even more authentic look, you can choose real maple leaves to create escort cards— it's easily doable! Of course, maple leaves will be more delicate, so take extra care of them.
28. Glass escort cards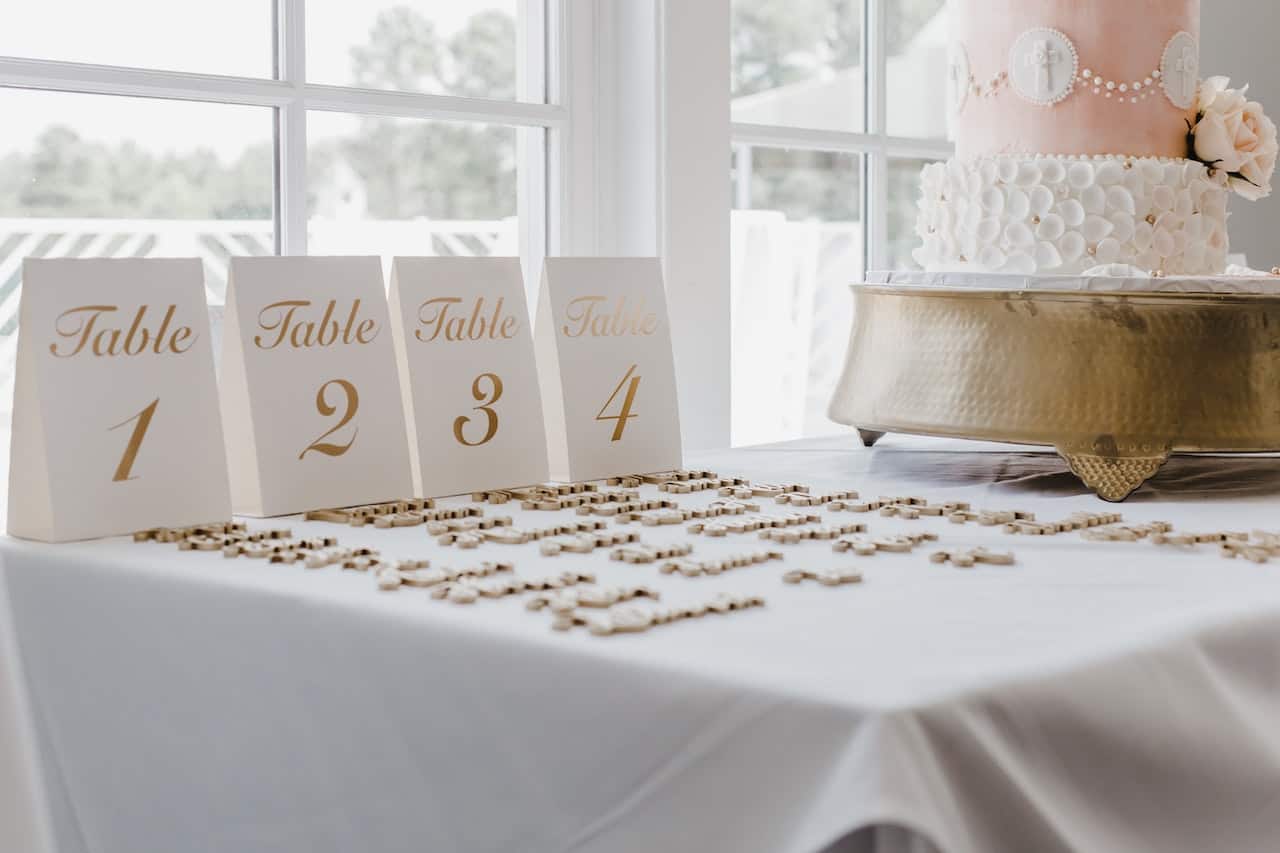 Nothing beats glass escort cards for a modern wedding theme— they don't have to be too big or too small. A medium-sized glass escort card with golden/white/black print would look amazing on your reception tables.
Fall wedding ideas for food
In the end, it all comes down to food. If the food's good, the wedding's good! Lucky for us, the fall season offers us excellent cuisine and beverage selections. Fall's food variety is not only good for your taste buds but also renders fresh decor.
Add fresh fruit corners from the farm to satisfy your guests; they look bright, taste fresh, and adorn your wedding with a seasonal vibe.
29. Fall season beverages
Alcohol is one thing— but non-alcoholic beverages with seasonal flavors will satisfy your guests with a nostalgic sweetness. Luckily, the fall season offers us many fruits— prompting delicious apple, pumpkin, cranberry juices, shakes, and mimosas.
Here are some great fall wedding food ideas for non-alcoholic seasonal beverages.
Hot holiday cider
Blackberry spritzer with a hint of honey
Non-alcoholic Sangria is a winner on every occasion.
Rosemary Limeade
Citrus wassail
Slow-cooker apple cider
Cranberry fizz
Pumpkin pie martini
Gingered citrus punch
Remember, there will be guests who may not prefer alcohol or cocktails for personal reasons. Keep your guests fresh, breezy, and excellent with these seasonal beverages.
30. Hot chocolate
There's never a wrong time for hot chocolate. Fall's upcoming chill is the perfect time to offer your guests hot chocolate. Don't stop yourself from keeping a variety!
31. Fall wedding ideas for Sweets and cupcake corner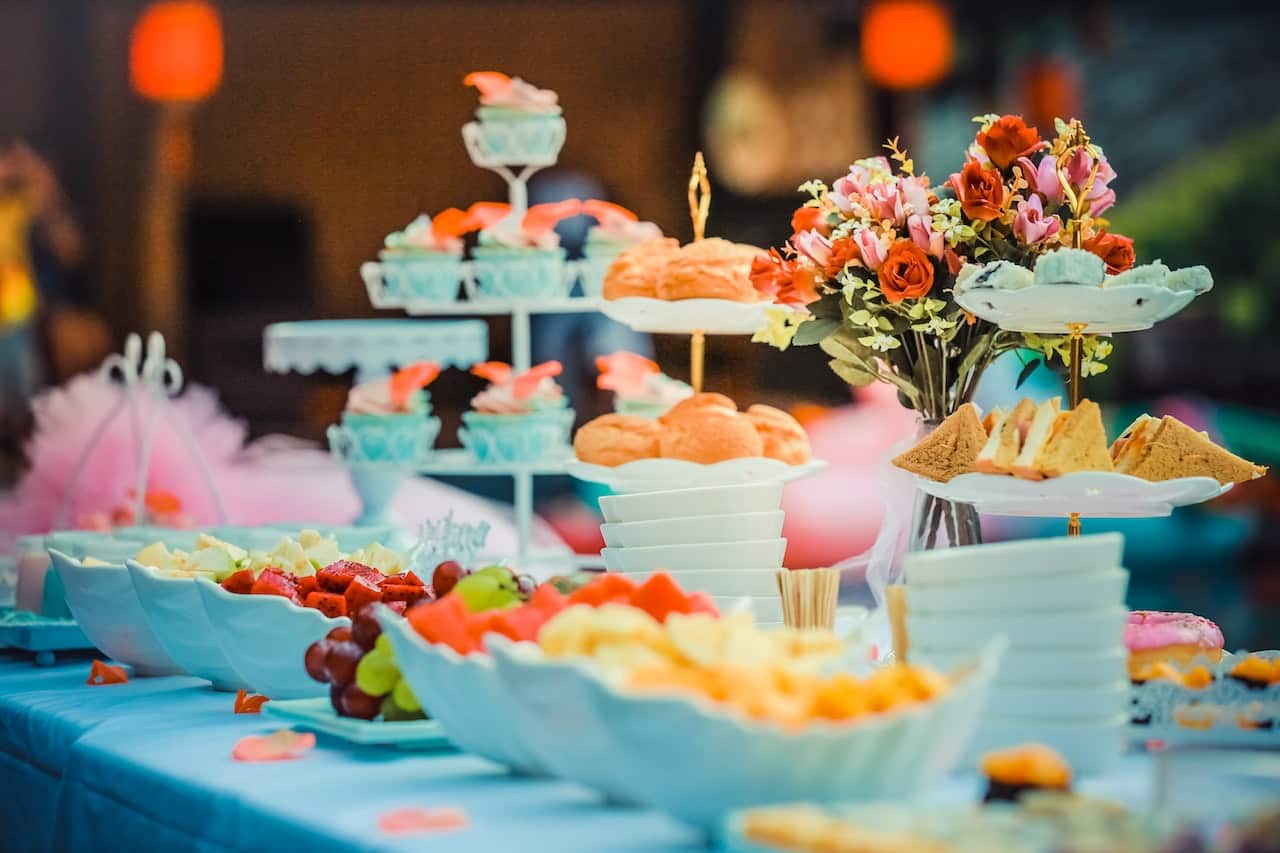 Autumn is known for apples, squashes, cranberries, pumpkin pears, and carrots. For your fall wedding, the cake is simply not enough! Luckily, autumn offers delicious fruits and even more mouth-watering desserts.
Stock your wedding sweet corner with
caramel-pecan cheesecake,
chocolate-dipped apples,
pumpkin spice cupcakes,
cranberry bars,
pumpkin-butterscotch gingerbread trifle,
heart-shaped pie pops,
caramel apples,
cinnamon rolls,
an autumn-colored macaron tower,
colorful donuts,
mini peach cobblers— just to name a few.
Fall wedding dress ideas
Fall is the season of inspiration, creativity, and a vibrant paradise. Bring the season to life with your dress, accessories, floral get-up, and bouquets. Let the world know you are an autumn bride with the colors you wear!
Make sure your to-be-husband enjoys this fall wedding just as much as you. How to make it happen? Pull him in this fall-inspired get-up with autumn boutonniere, fall-colored wedding suits (maybe a tiara), and whatnot!
32. Floral tiara
Match your all-white wedding gown with a colorful tiara— you are a floral queen and shouldn't look any less. Floral tiaras are just the right choice for the fall season. Plus, autumn hues and flowers would go along the fall theme beautifully.
Choose fall flowers that best represent you— let them synchronize with your overall dress and the wedding.
33. The autumn-colored dress theme for bridesmaids
Your bridesmaid's autumn-colored dresses would look phenomenal beside your warm-white wedding dress.
So, for this fall wedding, ditch those traditional nude-shade bridesmaid dresses and go for the warmer hues of the autumn season.
Amber
Crimson
Maroon
Auburn
Burnt orange
Burnt umber
Brown palette: Brunette, mocha, pecan, chocolate, caramel.
34. Wedding dress with hues of autumn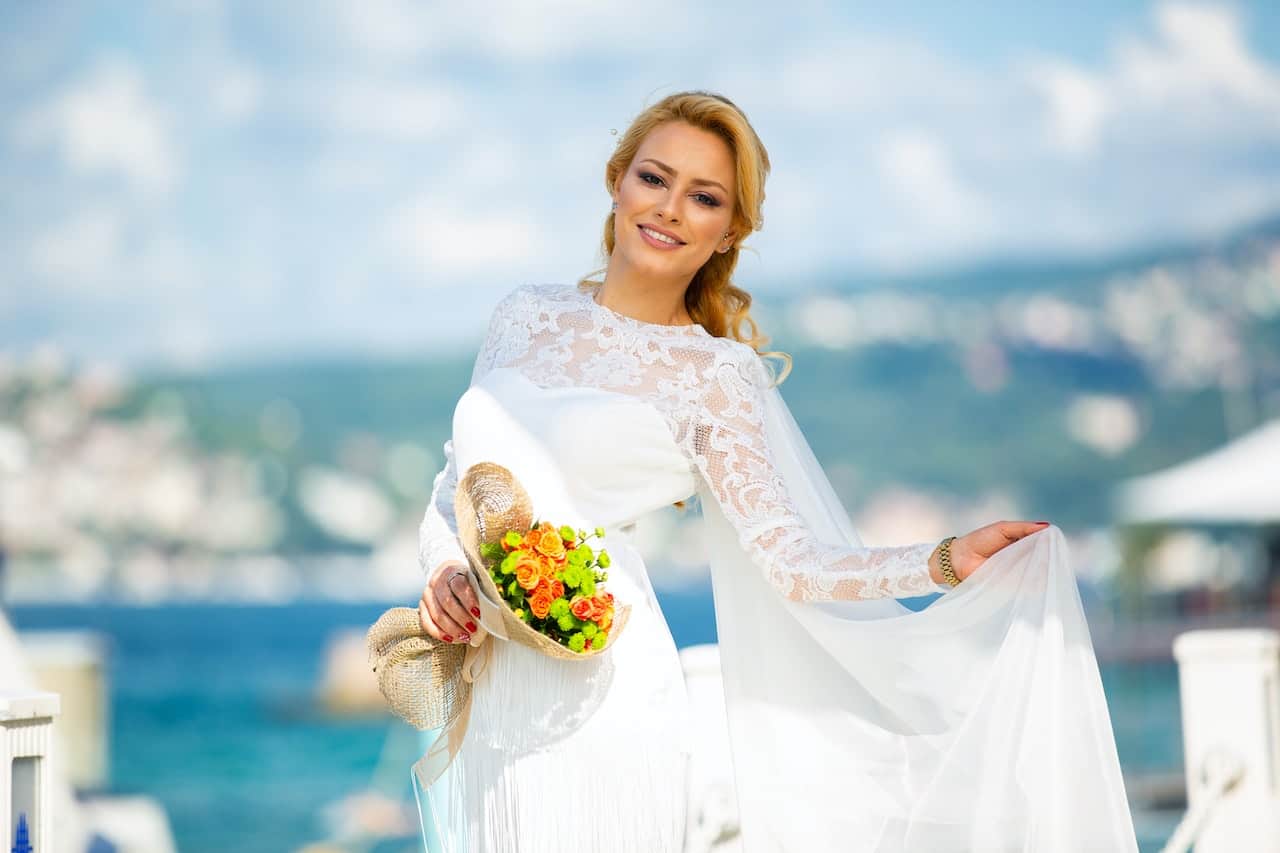 No books say that brides must only wear sheer white wedding dresses. No, you can wear whatever color you want or add characteristic colors to your otherwise white dress.
For instance, brown, amber, crimson, and orange hues would look stunning on your white dress. If your dream wedding dress includes floral accents, make sure they are made of autumn colors.
These colors don't need to be bold to be attractive— their simple and subtle appearance throughout the dress would amplify your overall get-up.
35. Fall wedding Boutonniere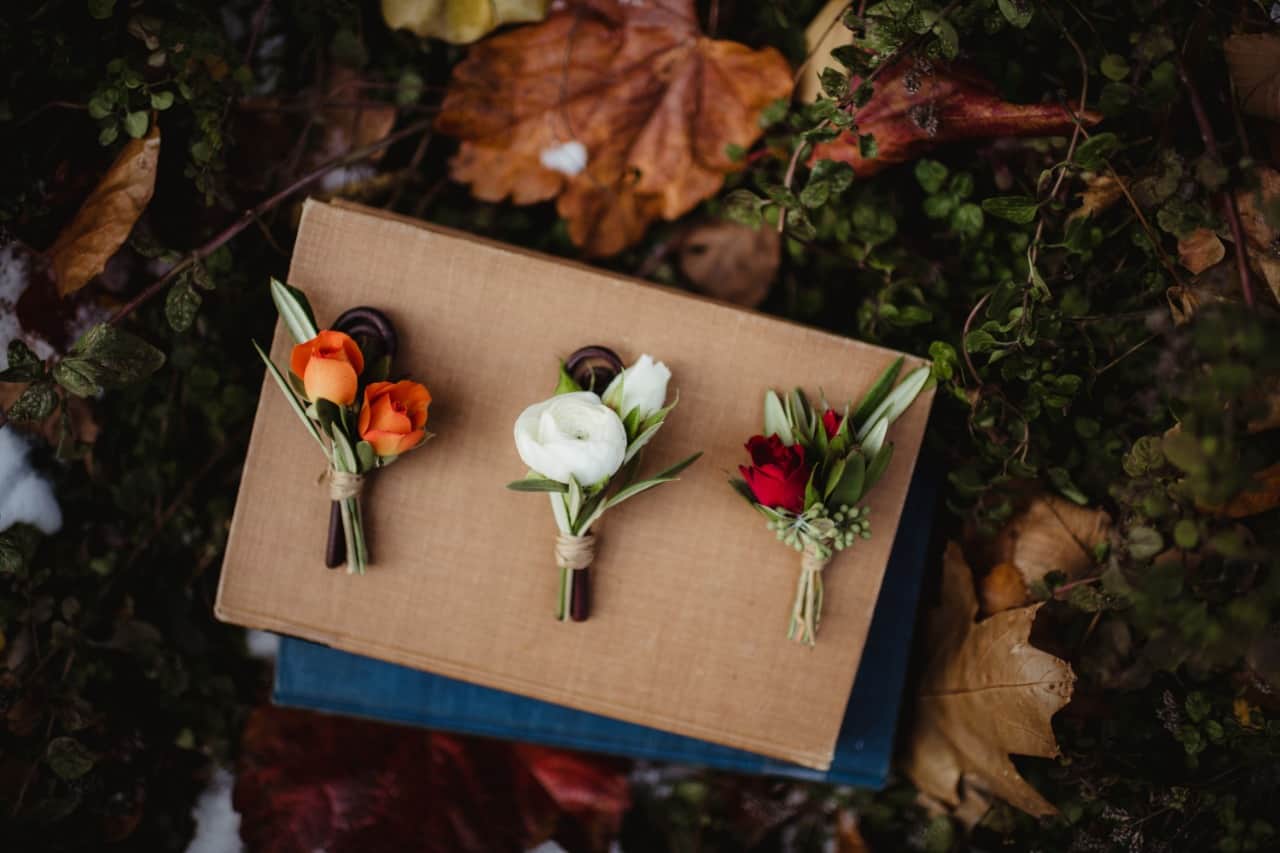 There are endless varieties for the bride, but when it comes to our groom— they only encounter a few variations. For this fall wedding, make sure your groom feels special, too. Instead of the basic rose boutonniere, bring a fall wedding boutonniere for your partner.
Choose an autumn flower that best suits your to-be-husband—
35.1. Hyacinth: The soft blue flower will best suit men who have a calm persona.
35.2. Jasmine: For your pretty and gentle husband.
35.3. Dahlia: Dahlia boutonnieres are best for partners who have fierce personalities.
35.4. Sunflower: Nothing beats a sunflower boutonniere if he's your forever sunshine.
Let this wedding also be about your to-be-husband.
36. Cheers to the groom with Autumn-themes
Let this wedding be equally memorable for the groom. When it comes to fashion or wedding clothes, men would often choose safe colors or have difficulty choosing the proper attire.
Help them fit perfectly in the fall wedding theme and suggest autumn-themed accessories and suits.
Ditch the basic white/black wedding suit: "Who wants to look simple when you can look stunning?" Let your man shine just as beautifully and earthily!
Some popular colors of groom's wedding suits are:
Brown
Beige
Emerald
Maroon
Rose or rouge pink
37. Gothic wedding idea— entangle black drapes with metallic accents
Kourtney's marriage was a huge inspiration for every goth lover out there. Everything was Victorian and gothic— even the dresses were chef's kisses. A gothic wedding would be your dream come true as someone who loves dark and pigmented themes.
A black dress? Why not? If that's your color, go for it! While it has been preached for a long time that black brings bad luck/death— it's quite an unexplained myth.
Before popularizing white wedding dresses, brides used to wear whatever color they liked the most. So be authentic, be you!
Not everything needs to be black for a gothic-themed wedding. Here are some popular gothic fall wedding ideas:
37.1. Candelabra, black candles, and lanterns
37.2. Black flower carts
37.3. Wooden arbor with black drapes
37.4. Pampas grass
37.5. Black wedding cake.
37.6. Victorian tablecloths
38. Guest scarf
The slight chill in the air will ruffle your hair and raise involuntary goosebumps— keep your guests warm by offering them light-toned autumn scarves. This distribution will allow your guests to blend perfectly with the fall-season wedding.
Choose colors that will amalgamate perfectly with the theme. Make sure you select soft autumn tones for the scarves.
39. Autumn accessories
For your fall wedding, please don't try to play safe— be extra, be you! Don't worry about judgments or trying out something new at your own wedding. If it's floral/autumn accessories, so be it!
While many brides would choose white floral accessories, you can go ahead and try something more unique— fall flowers with hues of orange, brown, yellow, lavender, warm blue, etc.
You don't have to use big autumn flowers for your tiara/hairdo— a cute minion flower semblance will be enough to make you look like a fairy!
However, if you are going for an updo wedding hairstyle or chignon, choose a single (big) autumn flower— just one and see the magic yourself.
Some brides even go ahead and choose floral rings, neck pieces, bracelets, and anklets.
40. Cozy blankets/scarfs
If it's a November fall wedding, the temperature will drop. So, have a blanket corner for your guests, especially if you plan a night wedding!
41. Wedding photo booth
It should be illegal not to have a photo booth at a wedding! Here are some great ideas to make your wedding photobooth crafty and fun!
41.1. Retro van wedding photobooth
41.2. A floral cycle corner.
41.3. White Lily backdrop
41.4. Sunflower field
41.5. A kissing booth to bring an unexpected twist to the wedding.
42. Fall-inspired wedding invitation envelope/box
Instead of the basic invitation cards— why not add a little more perspective and aesthetics to your wedding invitations?
42.1. Worn-out deckle paper: You have to agree worn-out deckle papers are more appealing and creative. These deckle papers have hand-teared edges and a rough texture.
42.2. Wax seal and dried flowers: To enhance your fall wedding, add an autumn-colored wax seal to your wedding invitation. Stamp the invitation with dried autumn flowers to not lose your wedding's overall theme.
42.3. Use floral lace/jute/satin rolls to wrap the invitation. Some couples use lace and tracing paper envelopes to add appeal to the invitation.
Choose a simplistic design for a wedding invitation box, but add dried flowers, maple leaves, and pampas grass inside it.
Don't forget to be subtle and straightforward when adding flowers. You don't want to overdo everything.
Alternatively, add a small bouquet of maple leaves/autumn flowers along with the gift.
43. Glass wedding invitation
For this year, my favorite would be the minimalist glass wedding invitation— they are simple yet so authentic! Choose a simple font and a decorative maple leaf at the top/bottom. Use this special wedding invitation for significant guests only— people who would keep the invitation safe.
44. Autumn cake
I have always found all-white weddings to be a little off-putting— they lack colors and vintage appeal. For your fall wedding, be a little bold and vibrant. Switch your white cake with a fall-themed cake— add orange, maroon, auburn, amber, and umber colors with floral and maple fondant.
Autumn cakes don't necessarily mean going overboard— they can be simple yet creative and beautiful. Here are some great fall wedding ideas for your wedding cake:
44.1. Autumn cake with maple leaves trail and sunflowers at the top.
44.2. A bare cake with minimal icing and frosting: Bare cake is now the new trend— with minimal covering, frosting, and icing, it gives a rustic appeal to your wedding. However, ensure your naked cake's layering is done correctly; otherwise, the cake will dry out.
44.3. Cake with edible/safe real autumn flowers.
44.4. Fall fruit cake.
44.5. Autumn color transitions throughout the cake's length.
Wrapping Up
Let the aforementioned fall wedding ideas guide you on how to plan your dream fall wedding. Please let us know how it went by using the comment box below.
Please Share And Save For Later!